A retired hockey star catcalled Olympic gymnast Aly Raisman on stage and it didn't go well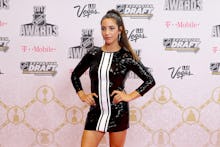 The first rule of presenting an award on live television? Don't catcall the woman presenting it with you.
Hockey Hall-of Famer Marcel Dionne broke that rule on Wednesday, when he appeared onstage alongside Olympic gymnast Aly Raisman at the 2017 NHL Awards.
"I'm excited to be onstage with three-time Olympic gold medalist — look at those legs!" Dionne exclaimed, apparently deviating from the script he was reading on a teleprompter. As the crowd erupted into a mix of cheers and boos, Dionne gestured at Raisman's legs and gave the audience a thumbs-up.
Though Raisman didn't respond to Dionne's remarks — which seemed to make her visibly uncomfortable — she's called out unwelcome comments on her body before.
In May, the 23-year-old tweeted about two TSA agents who commented on her muscles as she went through security, with the male TSA agent telling Raisman, "I don't see any muscles."
Raisman's Olympic teammate Simone Biles fought her own battle against body shaming in December, when Instagram trolls came out of the woodwork to leave mean comments on a post of Biles in a halter top and shorts.
Biles stood up for herself on Twitter, writing, "You can judge my body all you want, but at the end of the day it's MY body. I love it and I'm comfortable in my skin."
Raisman seemed to recover from Dionne's awkward comments just as resiliently, posting a photo of herself in her NHL Awards dress on Twitter.
As always, Raisman sticks the landing.