Chance the the Rapper apologizes to Dr. Dre for mocking his Aftermath label on Be Encouraged tour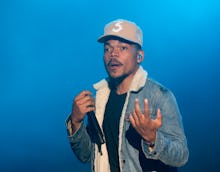 Back in April, Chance the Rapper opened his Be Encouraged tour by taking a bold stand against major labels. During his live rendition of "No Problems" — a song that confronts industry power players for trying to impede his work — he's taken to playing a visual that mocks the logos of music's biggest conglomerates.
Def Jam's iconic "DJ" logo became "Don't Join," Atlantic became "A Titanic" and Dr. Dre's Aftermath Entertainment became "Can't do Math."
Two months later, the rapper has had a change of heart.
On Thursday, in a long Twitter rant, Chance the Rapper apologized to Dr. Dre for including Aftermath in his offensive.
"I want to formally apologize to Dr Dre, and all of Aftermath for publicly disrespecting their hard work and contributions to music," he tweeted, acknowledging that he had made "the mistake of including Imprints, which not only dulled my overall point of trying to uplift artist, but also singled out artist-owned ventures that have only worked to progress the culture."
"Dre is a premier example of creating space for wealth and ownership in an industry designed for creatives to be the foot soldiers," Chance continued.
He highlighted Dre's work with Beats, his charity work with Compton Schools and the ways he's helped develop artists like "Kendrick, Game, Eminem, .Paak, 50, NWA."
That's "how I inspire to be," Chance added.
Rapper and producer Dr. Dre formed Aftermath in 1996, as a subsidiary of Universal Music Group's Interscope Records. It currently supports several of the artists Chance named in his rant, including Kendrick Lamar and Anderson Paak, among others. The label's hit rate has been astounding, going on platinum with at least 11 of its releases.
His work with Beats headphones though is what turned the rapper into a mogul. In 2014, he sold the company to Apple for $3.2 billion, the largest single-year pay day by a living musician at the time, according to Forbes. He's used that money to fund Compton schools, committing $10 million on June 15 to construct a performing arts center in one of the district's high schools. That follows a $70 million donation in 2013 to the University of Southern California, which helped create the USC Jimmy Lovine and Andre Young Academy for Arts, Technology and the Business of Innovation.
Dre's philanthropy put Chance's much-lauded $1 million donation to Chicago public schools in perspective, to some extent. Though their careers may have taken different paths in regards to working with major labels, the two artists share a similar goal.
"I set out to empower and I completely missed the ball and I know that now," Chance wrote. "Once again sorry to Dre, all the artists/producers at Aftermath and all the other folk trying to make a difference in music that I belittled."
Mic has ongoing music coverage. Follow our main music hub here.