Watch Elizabeth Warren nail exactly what Planned Parenthood does — and why we need it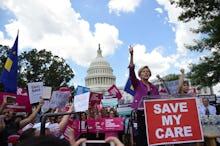 The Senate finally unveiled the latest iteration of the GOP's proposed healthcare plan on Thursday morning. Among the many proposed changes, including massive cuts to Medicaid, the bill would cut funding to Planned Parenthood for a year.
According to Massachusetts Sen. Elizabeth Warren, the move only underscores just how little Republican senators understand about what Planned Parenthood actually does.
Warren delivered a fiery defense of Planned Parenthood on the Senate floor on Wednesday, in anticipation of Thursday's healthcare plan reveal.
"I am sick of coming down to the Senate floor to explain to Republicans what Planned Parenthood does," Warren said.
"I am sick of explaining it provides millions of women with birth control, cancer screenings, and STI tests every year," she continued. "I am sick of pointing out again and again that federal dollars do not fund abortion services at Planned Parenthood or anywhere else."
Warren added that despite repeated, fact-based explanations about the proven health value of Planned Parenthood's services, "Republicans would rather base health care policy on politics, than on facts."
According to Warren, denying people access to the care that Planned Parenthood provides will cause harm — despite House Speaker Paul Ryan's claims that the new bill is "pro-life."
"Calling something 'pro-life' won't keep women from dying from back-alley abortions," Warren said. "It won't help them pay for the cancer screenings that could save their lives."
She ended her remarks on Wednesday by warning that American women are "here to fight back." By Thursday the public opposition to the bill was already apparent — just after the healthcare plan was unveiled, protesters blocked the hall outside Senate Majority Leader Mitch McConnell's D.C. office in a show of opposition to the new bill.