Federal court clears path for Mississippi's LGBTQ religious objection laws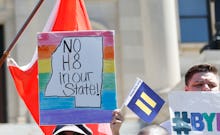 The 5th U.S. Circuit Court of Appeals on Thursday ruled that Mississippi can begin to enforce a law that would let the state's merchants and government employees deny services to same-sex couples because of their own religious beliefs, the Associated Press reports.
U.S. District Judge Carlton Reeves originally ruled that the law, HB 1523, was unconstitutional because it allowed unequal treatment for LGBTQ people.
When it first went to trial, Slate called the law the "nation's worst anti-gay bill." In her 60-page opinion, Reeves wrote that the law "establishes an official preference for certain religious beliefs over others," Slate reported.
According to the AP, Republican Mississippi governor Phil Bryant supports the law, saying it protects the belief that marriage is between one man and one woman and that a person's gender is determined at birth.