'Overwatch' Developer Update: Loot boxes will include fewer duplicates, Blizzard says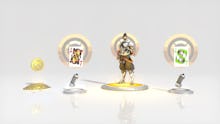 In a new developer update, Overwatch's game director Jeff Kaplan announced some pretty big changes to the loot box system. Although he spent the majority of the time talking about a revamped highlights system, Kaplan mentions near the end that Blizzard going to "make significant improvements to the loot box experience" as well.
Overwatch developer update: Here are the big changes in the new loot box system
Kaplan promises to "drastically reduce the rate of duplicates" that you'll get in your loot boxes. Hallelujah! This has been the chief complaint for Overwatch players for months now, as players are now climbing high enough in level to constantly be getting duplicate items.
It's a particularly big issue during events, when players often get the same special event items multiple times. Speaking from personal experience, I can confirm this is true. During the Lunar New Year event, I got the Mei legendary 11 times. For the Anniversary event, I got the Hanzo skin seven times.
This was the best move for the Overwatch team and it should keep more advanced players from getting bored and moving on to a different game. The update will also make future events more enticing as players will be promised a new reward more often.
More Overwatch news and updates
For more on Overwatch, check out the rest of what Mic has to offer. Here is an intro to the cute, new "Wholesome Overwatch" subreddit, a look at some gorgeous Overwatch-themed PS4 and Xbox One controllers, a cool Easter Egg in the new Horizon Lunar Colony map and a criticism of Blizzard's failures in its design of Symmetra.