'1984' co-director Robert Icke explains why Broadway adaptation is the right play for right now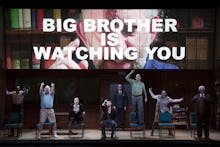 "It's a beautiful thing, the Destruction of words."
That's a line from 1984 — both the dystopian novel by George Orwell and its new Broadway adaptation — but it's also eerily relevant in today's era of "covfefe." The quote continues, "The great wastage is in the verbs and adjectives, but there are hundreds of nouns that can be got rid of as well." Add "conjunctions" and "suffixes" to that list and you have yourself President Donald Trump's Twitter account.
It's one of many resonant moments in 1984, which, like Orwell's book, follows everyman Winston Smith as he attempts to take down a shadowy government that uses fake news and gaslighting to control its populace. Naturally, the show has thrilled and horrified audiences since it began previews in May and opened officially June 22. It has also caused some attendees to faint, walk out or shout out "Resist," thanks to its booming, immersive sound design, graphic violence and apparent parallels to the Trump presidency. In a recent phone interview with Mic, Robert Icke — an Olivier Award-winning Brit who co-wrote and co-directs the adaptation — noted that some disgruntled patrons have even tried to stop the play in the middle of performances.
Though a commercial for the production flashes images of Trump and White House press secretary Sean Spicer along 1984 quotes like "Ignorance is Strength," Icke, 30, said 1984 isn't necessarily a hit piece on the current administration. He pointed out that some conservative audience members have even claimed that the play — which was first staged in London in 2013 before touring through Boston, Los Angeles and Washington, D.C. — is a criticism of the Obama administration.
"There's a passage [in the novel and play] that says there's a right of the people to overthrow the government and create a new government, and of course what's interesting about that is that's what the Trump guys think they've done," Icke said. "They've taken away a corrupt, over-controlling big government regime and replaced it with something better."
Orwell's 1949 novel has historically been claimed by both the political left and political right. Icke acknowledged how crucial it is to understand this, as he believes the novel's central story is meant to excoriate any form of over-controlling government. All that said, he and his co-writer/co-director, Duncan Macmillan, didn't decide to move their adaptation of 1984 to New York until after White House counselor Kellyanne Conway coined the now-infamous term "alternative facts" in January. Within two weeks of that flub, Orwell's novel had reached the top of bestseller lists, and a playful press release announced that 1984 would be the first production of Broadway's 2017-2018 season.
"I think the essence of the political conversation has become poisoned by dishonesty and the news cycle and by fear, rather than by actual arguments," Icke said. "I think that's something I will always be very interested in — the way that language can be used to obfuscate."
Broadway, and New York theater at large, has taken a stand against President Trump's administration ever since November's general election. On Nov. 19, Trump tweeted that the cast of Hamilton was "very rude" to "good man" Vice President Mike Pence for delivering a post-performance speech to him about diversity and American values. In June, Trump supporters stormed the stage of a New York performance of Julius Caesar to protest its use of a Trump lookalike in an assassination scene. And in July, director Michael Moore will debut his one-man show, The Terms of My Surrender, which boasts the tagline: "Can a Broadway show bring down a sitting president?"
Icke argued that Olivia Wilde and Tom Sturridge, who play 1984's main protagonists and romantic leads, feed off audiences' rebellious reactions to the material.
"I think the best thing about Olivia and about Tom and about Reed [Birney, who plays an agent of the Thought Police] is that they all turn up every night fresh and start on a blank page," he explained. "We've had audiences that panicked and fainted ... and those guys really embraced that lightness of the room, rather than getting intimidated by it."
Wilde, in particular, exudes a dangerous animalism during a destructive lovemaking scene with Sturridge that has left some audience members gasping. Both Wilde and Sturridge have injured themselves while performing this scene: Sturridge recently broke his nose, and Wilde broke her tailbone. Audiences have also had strong reactions to a torture scene in which Sturridge's character is shocked, bloodied and beaten into submission. It's gory, excessive and extremely effective.
In May, Wilde warned audiences about the play's sensitive material after several people fainted during a performance.
1984 is certainly nauseating at times and traumatic at others, but Icke hopes that everyone who sees the "wild" play will leave their confirmation bias at the door.
"I hope that people really understand it, and I think it's also true of the novel," he said. "In order to really get it, you realize that it embodies the whole of the argument rather than taking a side."
1984 is playing in limited engagement at New York City's Hudson Theatre through Sept. 30. It is not suitable for children under 14.