These are the 9 best 'America's Got Talent' Golden Buzzer moments of all time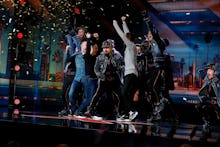 When an America's Got Talent judge presses the Golden Buzzer for a performer, the contestant often breaks down in happy tears and gold confetti descends from above. The show introduced this element of surprise to the judging process in season nine. If one of the judges presses the Golden Buzzer during auditions, their decision overrides the panel's votes and the talent automatically gets a spot in the live shows round.
There is a catch: Each judge and the host can only use the Golden Buzzer once a season. This makes it a moment of distinction for talent on the show. Here is a look at nine of the best America's Got Talent Golden Buzzer moments.
1. Mandy Harvey
Simon Cowell was moved to press the golden buzzer for Mandy Harvey, a deaf singer in season 12's auditions. Before performing an original song, "Try," the young woman shared the inspirational story of how she re-learned to sing and play music after losing her hearing.
2. Dorothy Williams
On season 11, not everyone was impressed by Dorothy Williams' burlesque strip tease act. But Nick Cannon broke the rules and pressed the buzzer to give the 90-year-old a chance to prove that age is just a number, not a limitation, when it comes to living out dreams.
3. Craig Lewis Band
The Craig Lewis Band, made up of two Atlanta besties, received a standing ovation for their cover of Mary J. Blige's "I'm Going Down" in season 10. Guest judge Michael Bublé decided to give them the honor.
4. Freckled Sky
In season 10, Freckled Sky's performance told a emotional story through a mix of modern dance and cool lighting technology. Before pressing the Golden Buzzer, Howard Stern praised the dancers and the producer behind the act for their gifts.
5. Light Balance
Host Tyra Banks couldn't contain herself after watching Light Balance's audition during this current season, and ran over to the judges' panel to press the buzzer. The dancers wore special lights which blinked on and off as they executed their movements.
6. Sofie Dossi
During the judge cuts in season 11, Sofie Dossi showed off many breathtaking tricks, including the moment when she brought her leg over her head and used her foot and hand to hit a target with a fire-lit arrow. This turned guest judge Reba McEntire into a believer who pressed the Golden Buzzer.
7. Christian Guardino
During this season, 16-year-old crooner Christian Guardino blew the audience away with his soulful rendition of the Jackson 5's "Who's Loving You." Guardino made a big impression on Howie Mandel, who gave the teen the Golden Buzzer acclaim.
8. Grace VanderWaal
In 2016, Howie Mandel believed Grace VanderWaal showed promise of being an amazing songwriter after her performance of her song about self-acceptance, "I Don't Know My Name." With her ukulele, the pre-teen sealed the deal and Mandel sent her further in the competition with the Golden Buzzer.
9. Darci Lynne
This season, ventriloquist Darci Lynne and her singing puppet performed a charming cover of "Summertime," a jazz standard composed by George Gershwin and written by DuBose Heyward. Darci's talent made Mel B's "heart melt," leading the judge to hit the Golden Buzzer.
Mic has ongoing America's Got Talent coverage. Please follow our America's Got Talent hub here.