It doesn't matter who wins 'RuPaul's Drag Race' because nobody is losing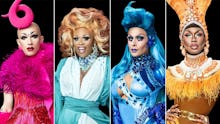 That Shea Couleé, one of the four finalists competing for the title of America's Next Drag Superstar and the grand prize of $100,000, wants to win the crown during Friday's finale of RuPaul's Drag Race is no surprise. "It's a competition, that's what it is," the Chicago queen said in an interview.
But Couleé — who throughout season nine of the reality drag competition has won the most challenges, been lauded by the judges and released a sickening trio of music videos — knows that even if she doesn't win Friday night, that doesn't make her a loser.
"What I showcased on the show was exactly what I wanted to show people. I went into that experience [thinking] it was going to be literally the most challenging phase in my life, and I wanted to see for myself, 'What is it that you can achieve under this immense pressure?'"
Couleé, like the other three finalists (New York City queens Peppermint and Sasha Velour and Alabama entertainer Trinity Taylor), rose to the occasion and now stands the chance to go down in herstory as one of the few drag queens to have RuPaul bow to them. Couleé, however, knows that winning isn't the be-all end-all of competing on the show.
"This was the one chance that I had, and I had to make the best out of it and not second guess myself. It really taught me how to believe in myself, and that's such a prize in and of itself. The fandom for this show is great and there are so many amazing career opportunities that come out of this exposure that it's winning just being in the position that I'm in now."
What Couleé says is absolutely true. Drag Race, more than any other reality competition like it, has the most obvious post-show career path for its competitors. While contestants on shows like Project Runway, America's Next Top Model and The Voice typically fade back into obscurity once their season has ended, Drag Race queens are afforded the opportunity to travel the world touring gay bars and clubs, either as part of Ru-approved tours like Battle of the Seasons or on their own — forever with the added bonus of the Drag Race stamp of approval.
The ability to maintain a healthy and successful career after the cameras are off could come down to the fact that the stakes on Drag Race are lower, or at least more niche, than on other reality shows. The queens are not competing to become international pop stars or launch careers as top fashion designers. They instead need to make bars full of queers think they're sickening — no small feat, but it goes without saying that if you're good enough to even be cast on the show, you've proven that you have the charisma, uniqueness, nerve and talent to keep the fans interested—even if you don't win.
"I didn't win, and I didn't win twice," laughs season seven contestant Trixie Mattel, a bubblegum-pink confection with a twisted sense of humor. "I almost took it like a personal vendetta: If you don't think I'm America's Next Drag Superstar, I'm gonna go be America's Next Drag Superstar." And Mattel has built one of the most successful post-show careers thanks to both her recently released country album Two Birds and her wildly popular YouTube show Unhhhh, which co-stars fellow season seven queen and RuPaul's Drag Race: All Stars 2 finalist Katya.
"The real race is after Drag Race," Mattel claims. "At the end of the day, we're all performers. You can be fierce the four months you're on television, but what are you going to do after that and how will your audience stay connected to you? The reason people like me now is separate from the reason they liked me on TV."
Being on Drag Race is enough to make an audience aware of you, but how do you keep their attention once your four months on TV are up?
Willam Belli is one queen who used her dramatic exit — she was disqualified from the competition either for a rule-breaking conjugal visit from her husband or to appear in an off-Broadway show, depending on who you ask — to her best advantage. "RuPaul told me I set the bar for exits [and that] I should get a gold star for my strategy," Belli said in an interview. "Other girls have followed my timeline with singles, merchandise, and deals upon their entry and exit, so I'm kinda flattered by that." Going into the show, Belli knew she had "three and a half out of the allotted five weeks to fuck shit up. I never planned on winning."
According to season seven contestant Jasmine Masters' most infamous YouTube video, she appeared on the show for the pay raise it guarantees queens. While Masters was eliminated early in the season, she's been able to build a cult following thanks to her no-holds-barred Instagram and YouTube videos, none of which would be possible if she hadn't appeared on the show. "I'm getting way more recognition now than before," Masters said in an interview. "People know I'm there to have fun and speak the truth."
One post-show path for queens is to appear on All Stars, which brings together non-winners from different seasons for the chance to join the Drag Race Hall of Fame and win a cash prize. While the first season of the spinoff — won by Cher impersonator Chad Michaels — was barely a blip in the zeitgeist, the second season was a smash hit, breaking records as the most-viewed season of a Logo original series to date.
For eliminated queens, All Stars is no longer simply the chance to get back on TV and win some cash, but the opportunity to completely reinvent themselves. Tatianna, who appeared on season two of Drag Race, was able to breathe new life into her career by appearing on All Stars and re-introducing herself to a much wider and more voracious audience than had existed during her original season.
Even Couleé, who still has winning in her sights, sees All Stars as a possible future should she not be crowned. "Being on TV twice is better than being on TV once," she joked. "I'm not opposed to it because All Stars gives you the chance to show even more of what you are able to do. You have the opportunity to compete with girls that you've seen go through the show, that you understand their personality a little bit, you know what their strengths are, you have an understanding of what their weaknesses are and I think as a contestant, you go in there a bit more prepared, because you've already been through the experience so you have an advantage, a better understanding of what to expect."
"I'm comforted by the idea that I did Drag Race and I never have to do it again," Mattel said. "I'm discomforted by the idea that I would ever get to do All Stars because of course I would have to say yes — because I would love another chance to win — but I could not take the heartbreak of losing again! As a comedian you're supposed to say 'well that's the way the cookie crumbles', but as an adult man in a wig, it would be horrible."
All Stars is not necessarily the right post-show trajectory for every Drag Race contestant, and it's also not necessarily an opportunity afforded to all queens who appear on the show (it's implicit that to secure a spot on All Stars, you have to have made in or close to to the finals of your season). But there are other ways queens can make their mark even when they're eliminated early: Aja, a contestant on the current season who was eliminated in episode seven, immortalized herself as a meme thanks to her Linda Evangelista rant during an episode of the series' behind-the-scenes YouTube show Untucked, and then again by calling bullshit on co-star Valentina's Miss Congeniality win during last week's reunion episode. When it comes to Drag Race and drag in general, a clear point of view, confidence in yourself and a healthy amount of shade are key in becoming a fan favorite, especially when those fans are pop culture's cash-cow demographic: teenage girls.
"Drag is out in the zeitgeist, but it used to be our best kept secret," adds Mattel. "So much of my comedy is written from the perspective of a mid-20s gay man and I don't know how or why it so clearly resonates with young women, but I'm so happy it does."
Drag, Mattel claims, is like music. "There's a band for everyone, a genre of music for everyone. There's a type of drag for everyone. If you want a pop star you can go watch Courtney Act and it's literally Kylie Minogue with a nicer wig. If you like raunchy comedy, Bob the Drag Queen might as well be Wayne Brady who happens to have a wig on."
Win or lose, the key to post-television success in the world of mainstream drag is about confidence. "People who win Drag Race don't win by second-guessing themselves, they win by going in there and saying 'I'm a winner and I'm going to win," Mattel explains.
If getting RuPaul's seal of approval means a guaranteed career as a drag queen, then there really are no losers, only winners. "Obviously for some of us," Mattel can't help adding, "it's more of a Tylenol PM capsule, delayed reaction situation."