'Homeworld: Emergence' on GOG: 'Cataclysm' gets a new name, but the rest stays the same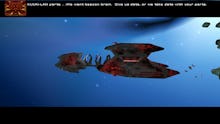 Homeworld: Cataclysm is finally available for digital purchase on GOG with a new name. Gearbox renamed the game to Homeworld: Emergence due to Blizzard's World of Warcraft: Cataclysm copyright.
If you played Homeworld: Remastered Edition, you may have noticed the huge gap in time between Homeworld and Homeworld 2. Well Homeworld: Emergence is a standalone expansion that fills the gap between the two, and tells a story that's my favorite in the series.
Homeworld: Emergence: So why did it take till now for Cataclysm to hit digital sales?
The licensing behind the Homeworld series is complex and beyond the scope of this article, but it's a huge contributor to what happened to prevent Homeworld: Cataclysm being re-released until now.
While Homeworld and Homeworld 2 were developed by Relic Entertainment, Homeworld: Cataclysm was developed by Barking Dog Studios. None of these companies continue in their original forms, and through years of buyouts, business absorption and so on, somehow the source code was lost for Homeworld: Cataclysm.
One of the most important things source code contains that executable (finalized) code doesn't is developer comments. Even though Cataclysm's final code has been widely available for years, upon acquiring the rights to the series in 2013, there was no way for Gearbox to know what each segment of code specifically did without the source code. So since Homeworld and Homeworld 2 had source code available, they were able to be modernized and updated into the Homeworld Remastered Edition and Homeworld: Cataclysm wasn't.
Homeworld: Emergence: How did Cataclysm come to GOG?
GOG has been working with updating older PC games to work on modern systems for years. Most of the time this involved adding a DOSBox wrapper or tweaking a few settings, but it was assumed that GOG had access to source code if needed. However, GOG stated to Kotaku:
"technology allows us to take classic games and make them playable on modern machines without requiring the source code. We worked closely with Gearbox Software on making sure the game stayed true to the original, based on the builds that we have in-house."
So it appears that now GOG has developed tools that either allow them to quickly map code in finalized games or some new wrapper like DOSBox that can work with Windows-based games. If so, this is an amazing development, because I'm sure there are more than a few classic PC games we haven't seen because of lost source code.
Homeworld: Emergence is available now on GOG for PC for $8.99.
More gaming news and updates
Check out the latest from Mic, like this essay about the sinister, subtle evils lurking in rural America that Far Cry 5 shouldn't ignore. Also, be sure to read our review of Tekken 7, an article about D.Va's influence on one Overwatch player's ideas about femininity and an analysis of gaming's racist habit of darkening villains' skin tones.