Columbus police officer kicks handcuffed black man in the head. Chief recommends 24-hour suspension.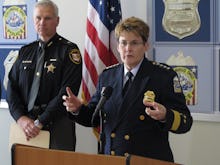 Columbus, Ohio, Police Chief Kimberley Jacobs has recommended a 24-hour suspension for an officer captured on video kicking a handcuffed black man in the head while he was lying on the ground, the Columbus Dispatch reported.
In the video recorded April 8, Officer Zachary Rosen can be seen running toward 26-year-old Demarko Anderson as the suspect lies prone on his stomach being handcuffed by Officer Darren Stephens.
Rosen appears to kick Anderson with his left foot, causing the 26-year-old's head to bounce sharply off the concrete. You can watch footage of the incident below.
The incident reportedly sparked protests in Columbus when it occurred, and news of this relatively light punishment recommendation is unlikely to assuage frustration. Jacobs' announcement was first reported by the Columbus Dispatch on Wednesday, but she originally stated her decision in a June 14 memo to Rosen.
The memo has since been forwarded to public safety director Ned Pettus Jr., who will ultimately decide Rosen's punishment. The local Fraternal Order of Police union has defended Rosen's actions over the past two months, but an internal investigation by the Columbus Police Department found that Rosen used an "untrained technique" and was "in violation" of policy, according to WSYX.
While Rosen's punishment remains to be determined, Jacobs' response is in line with the lack of consequences police officers typically face for brutalizing or killing black people in the United States. In the past week alone, St. Anthony, Minnesota, Police Officer Jeronimo Yanez and former Milwaukee Police Officer Dominique Heaggan-Brown were acquitted by juries for shooting and killing Philando Castile and Sylville Smith, respectively, last summer.
Columbus Mayor Andrew J. Ginther responded to Jacobs' recommendation in a Facebook post Wednesday, assuring residents that Jacobs' decision was not the final one.
"While the chief of police has made a recommendation for discipline in the use of force case involving Officer Rosen, the director of public safety will make the final decision under the current FOP contract," he wrote. "I have every expectation the public safety director will discipline Officer Rosen in a manner that holds him accountable for his actions, and I expect the final decision to be made as quickly as possible."