Lonzo Ball gets drafted by the Los Angeles Lakers, and LaVar Ball gets exactly what he wanted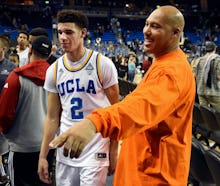 It's official. Barring a trade or unexpected demotion to the NBA's development league, 19-year-old Lonzo Ball will suit up for the Los Angeles Lakers next season after L.A. selected him with the second overall pick in Thursday's NBA Draft.
The news represents a vindication of sorts for Ball's father, LaVar Ball. The elder Ball has consumed the sporting news cycle over the past several months with his boisterous and often outlandish claims about how superior his son his to other players — established superstars included — and his insistence that Lonzo would invariably end up playing for the Lakers.
"Everybody knows [Lonzo] is going to be a Laker," said LaVar — who raised Lonzo and his two younger brothers, LiAngelo and LaMelo, about 35 miles east of L.A. in Chino Hills — over the weekend.
So begins the Ball family's long-gestating takeover of Southern California basketball. With Lonzo as a new Laker and former star at the University of California at Los Angeles; 18-year-old LiAngelo as a UCLA commit; and 15-year-old LaMelo as a star at Chino Hills High School, who scored 92 points in a game in February, LaVar's prophecy that he'd one day have three sons not only playing in the NBA, but playing for the Lakers and winning championships together, seems that much closer to fruition.
But that doesn't mean everyone is happy about it. With LaVar's loud and obnoxious behavior has come a strong sense of schadenfreude from observers, which has often manifested as antipathy toward his sons. One could almost sense the joy from naysayers when 15-year-old LaMelo's Big Ballers were blown out by the Compton Magic by 50 points in May, for example.
Mic's Jamilah King wrote in March that, despite being one of the more reviled helicopter parents in sports today, LaVar has attained notoriety in part by bucking some of the more insidious stereotypes about black fatherhood. LaVar is undeniably dedicated to his sons. He trains them himself. He advocates for them relentlessly, and remains the most vocal cheerleader for his family. In a nation where black fathers are often regarded as absent deadbeats, LaVar exemplifies the statistical reality: that black fathers are, on average, more involved in their kids' daily lives than dads of other races.
"I think there's a stereotype in the culture at large of the absent black father," Dr. Todd Boyd, a professor of race and popular culture at the University of Southern California, said in an interview. "So many stories we hear about athletes have to do with absent black father image, and he's obviously not absent. He's very present."
Now, LaVar's presence is on a bigger stage than ever. And if his past statements are any indication, he couldn't be happier.