Trump says he finds special counsel Mueller's relationship with James Comey "bothersome"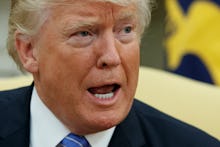 President Donald Trump said in an interview airing on Fox and Friends Friday that special counsel Robert Mueller has a "bothersome" relationship with James Comey, the former FBI director who was heading the bureau's Russia investigation until Trump abruptly fired him in May.
"Well he's very, very good friends with Comey, which is very bothersome," Trump said of Mueller. "We're gonna have to see. We're gonna have to see in terms — look, there has been no obstruction, there has been no collusion. There has been leaking by Comey, but there has been no collusion, no obstruction, and virtually everybody agrees to that."
Not everyone does agree to that, though.
According to an Associated Press/NORC poll June 15, 61% of Americans believe that Trump attempted to "impede or obstruct" the investigation into Russian interference in the 2016 presidential election, as well as into potential ties between the Trump campaign and Russia.
Further, the investigation, which Mueller is now helming, reportedly includes a probe into whether or not Trump did, in fact, obstruct justice when he axed Comey, as some watchdog groups and Democratic critics have argued.
Mueller has lately become a punching bag for the president's allies, including former House Speaker Newt Gingrich, who has said it is time to "rethink" the special counsel because he will be unfair to Trump.
Earlier in June, right-wing Newsmax CEO Chris Ruddy — a friend of Trump — said the president is considering firing Mueller, which some Republicans worried would be a "disaster" — and which Ruddy himself said would be a "very significant mistake."
"I think he's considering perhaps terminating the special counsel," Ruddy told PBS' Judy Woodruff. "I personally think it would be it would be a very significant mistake, even though I don't think there's a justification ... for a special counsel in this case."
Trump has repeatedly dismissed the investigation into his campaign's potential ties to Russia as a "witch hunt."
In his Mueller comments in the Fox and Friends interview airing Friday, Trump also takes issue with the people Mueller is staffing his investigation with, saying they are "all Hillary Clinton supporters."