Federal judge blocks deportations of Iraqi Christians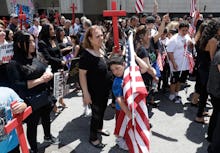 More than a hundred Iraqi Christians rounded up by Immigration and Customs Enforcement in Detroit in June are safe from deportation — for now.
On Thursday, Judge Mark Goldsmith temporarily blocked the deportations of the mostly Chaldean Christians, who face "genocide" at the hands of ISIS in their home country.
"Chaldeans have been targeted by ISIS and subjected to genocide, as have other religious minorities," Rep. Anna Eshoo (D-Calif.), a Chaldean Catholic, told the Catholic News Agency on June 12. "Their deportation represents a death sentence should they be deported to Iraq or Syria."
Goldsmith's ruling Thursday will keep "all Iraqi nationals within the jurisdiction of the Detroit ICE field office with final orders of removal, who have been, or will be, arrested and detained by ICE" from deportation for at least two weeks, after which the federal judge will issue a new ruling.
The decision came in response to a lawsuit filed by the American Civil Liberties Union, which celebrated the ruling as a "life-saving action."
"The court took a life-saving action by blocking our clients from being immediately sent back to Iraq," Lee Gelernt, deputy director of the ACLU's Immigrants' Rights Project, said in a statement. "They should have a chance to show that their lives are in jeopardy if forced to return."
All the 114 Iraqis detained in the Detroit-area raids — most of whom are Chaldean Christians — had "been subject to deportation orders and had criminal convictions or pending criminal charges," according to the Guardian.
But, the ACLU argued, deporting them to Iraq would put the religious minority in "grave danger of persecution, torture or death," according to Michael Steinberg, legal director of the ACLU of Michigan.
"It would be unconstitutional and unconscionable to deport these individuals without giving them an opportunity to demonstrate the harm that awaits them in Iraq," Steinberg said in a statement.