Alexis Bledel confirmed to have bigger role in 'The Handmaid's Tale' season 2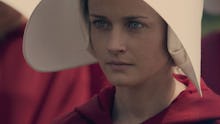 For fans yearning to find out more about Ofglen's fate in The Handmaid's Tale, the show is not only bringing the character back — she will also have a much bigger role in season two. Alexis Bledel, who played Ofglen as a guest star in the first season, will return as a series regular, Variety confirmed Thursday.
The hit Hulu show, based on the dystopian novel by Margaret Atwood, made changes early on to Ofglen's storyline. Series lead Bruce Miller told TV Guide in April that he believed there was more to Ofglen's story that needed to be told.
"In the book, Ofglen just disappears and we hear that she killed herself. There's no real way to confirm that," he explained. "This was just one of those cases where you just follow your curiosity and you say, 'Well, what happened to her?'"
In Hulu's adaptation, viewers were able to dive deeper into the backstory of Ofglen, who is a member of the Gilead resistance group Mayday. In the first season, Oflgen was punished for being in a relationship with another woman, a Martha, an illegal act in Gilead. The Martha is hanged and Ofglen undergoes the cruel punishment of genital mutilation.
For some viewers, Bledel's return is also good news, as she has been giving a stand-out performance on the show so far. To see Bledel, who formerly starred on Gilmore Girls, make a comeback next season and further push the envelope in this dark and serious plot will be interesting. Read more about why Alexis Bledel has been giving the performance of her career in The Handmaid's Tale here.
Season two of The Handmaid's Tale is expected to arrive on Hulu in 2018.
Correction: June 23, 2017
Mic has ongoing coverage of The Handmaid's Tale. Follow our main Handmaid's Tale hub.