Mariah Carey's cameo in 'The House' was axed — and the reason won't surprise you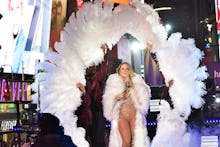 Will Ferrell and Amy Poehler's upcoming comedy The House was set to feature a cameo from multi-Grammy award winner Mariah Carey, but now that appears not to be the case. During an appearance on Late Night With Seth Meyers, Ferrell revealed that the diva "did not make the final cut," apparently for being, well, a diva on set.
While Ferrell did not explicitly state the reasoning behind the decision, he did imply that the singer was not the easiest person to work with.
"There were … suggestions [from Carey] that weren't executed," he told Seth Meyers. "She was on our set and, yeah, things happened and didn't happen."
Carey's demands apparently slowed down filming to the point that even Ferrell himself was told his scenes would have to wait for another day. "Let's just put it this way: At about midnight I got a knock on my trailer that said, 'You can just go home. We're not going to get to you,'" Ferrell said.
And Ferrell was not the first person to indicate that Carey was less than professional on the set of The House.
In May, actor Rob Huebel spoke about the singer's on-set antics during an appearance on SiriusXM's Entertainment Weekly Radio. In addition to saying that Carey showed up "four hours late," Huebel outlined some of her incredible requests.
"She was hired to sing one song, and she was like, 'You guys, I don't want to sing that song.' They're like, 'We hired you to sing this song,'" Huebel explained.
"So then they were going to do this bit where they shoot her, I think, and they kill her — in the movie. Not in real life. But she didn't want that. She was like, 'I don't think my character would get killed by bullets. What if I deflected them like Wonder Woman?' They were like, 'Mariah, we don't have time for [this]. You're getting paid so much money. We have you for one day. We don't have time to argue with you. Just do it.' She just didn't want to do what they wanted her to do. Anyway, why am I talking trash about her?"
More recently, actor, comedian and The House co-star Cedric Yarbrough wrote a post on Facebook (which has since been deleted) calling out Carey, saying that her behavior on set was "unprofessional" and "borderline abusive."
None of these reports should really be all that shocking, as Carey has a pretty long history of "diva-like" behavior and outlandish requests.
According to Complex, Carey's tour riders (i.e. list of requests while traveling) have included a "Rolls-Royce, a pink carpet, pink podium, confetti shaped as butterflies, 80 security guards and [a] 15-person entourage." Oh yeah, she also has asked for 100 doves and 20 white kittens.
Furthermore, The House is not the first time Carey has clashed with other talent. During her stint on American Idol, Carey reportedly got into a behind-the-scenes feud with fellow judge Nicki Minaj.
Asking Carey to film a mere cameo for The House may just have been a poor idea from the beginning. The singer very rarely has any desire to share the spotlight. In a 2008 performance on Good Morning America, Carey can even be heard telling a backup singer to stop singing along with her part. In Carey's defense, she did so in the same key.
The House, which is directed by Andrew Jay Cohen, hits theaters on June 30, starring Ferrell, Poehler, Jeremy Renner, Ryan Simpkins and not Mariah Carey.
Mic has ongoing coverage of movies. Please follow our main movies hub here.