Nike recognizes voguing as a sport in its new #BeTrue pride ad with vogue legend Leiomy Maldonado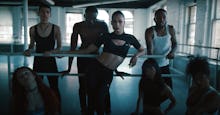 For so many years, the kind of sports showcased in Nike ads have often been things like running, basketball or gymnastics. But in a new ad for its #BeTrue pride collection, Nike is shining a light on a kind of athlete and sport rarely ever seen in a mainstream athletic brand's commercials.
In the ad, Amazon Mother Leiomy Maldonado, a legendary vogue artist who was also the first transgender woman to appear on MTV's America's Best Dance Crew, in 2009, is seen dancing and voguing and training by herself and with other vogue dancers.
Although modern, interpretive dancing has been celebrated by Nike before for its own athleticism, this is perhaps the first time that voguing has gotten the credit as a sport that it's long-deserved.
The ad itself is also incredibly moving, with narration by Precious Angel Ramirez (who goes by Princess Mami Precious on Facebook), a transgender artist, encouraging Maldonado. "Hey Lei," she begins. "What did you do to make a mark on this world? What mountains did you climb?"
She goes on:
Which angels gave you their wings?
Other artists involved in this video include: Tiffany Theartist, Monsièur Pariè, Karma Styles, Albert Taveras, Karin Tatsuoka, Marshay Love, Chauncey Dominique and Luz Romano.
The Daisy Zhou-directed ad already has a fan in Laverne Cox, who reposted the ad and wrote on Instagram: "The girls are doing big things; trans folks are stepping forward with talent, vision and determination and I love you all."
By having such a major brand like Nike embrace women like Maldonado and sports like voguing, it makes it all the more possible for not only people to see Maldonado's talent but understand that voguers can be athletes, just like any other dancers, and that voguing is an extraordinary sport as well.
Mic has reached out to Nike and Maldonado for comment.
You can watch Maldonado's entire ad below: