Grenfell Tower Fire: Police say blaze started in a refrigerator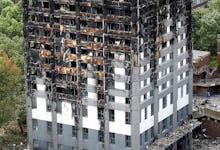 London's Metropolitan Police say the deadly Grenfell Tower fire that killed at least 79 people started in a refrigerator and freezer, the BBC reported on Friday. Police confirmed that the fire was not started intentionally.
The U.K. government has ordered testing of the appliance involved, a Hotpoint-brand fridge-freezer, according to the BBC.
The massive fire broke out early in the morning on June 14 and spread quickly through the 24-story apartment building. A spokesperson for the Metropolitan Police said that the speed with which the fire spread was "unexpected," the BBC reported.
The building materials used in the tower may be to blame for the alarmingly rapid spread of the fire. Police said that both the cladding on the exterior and the insulation used in the tower failed their safety tests, the New York Times reported on Friday.
Safety checks are currently being carried out on other buildings that use cladding material similar to the kind on the exterior of Grenfell Tower, the Times reported.
Officials have formally identified nine of the victims who died in the fire, and authorities are continuing to work to identify remains. The investigation into the cause of the fire is ongoing, and will be "exhaustive," according to Metropolitan Police detective superintendent Fiona McCormack, the BBC reported.
"As we learn more, the scope and scale may well grow," McCormack said. "We will look at the refurbishment. We are looking at the paneling and the entire facade of the building."
McCormack also said police are looking for names of anyone who may have been in Grenfell Tower at the time of the fire, regardless of their reason for being there.
"I do not want there to be any victims of this tragedy that we do not know about," she said. "Our priority is to understand who was in Grenfell Tower. We are not interested in people's reasons for being in Grenfell Tower."