Twin bombings in Pakistan market kill at least 15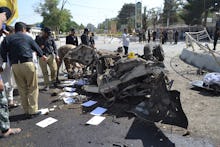 Twin bombs that exploded at a crowded market in northwest Pakistan on Friday killed at least 15 people and wounded 70, according to a Pakistani government official who spoke to the Associated Press.
Local government administrator Zahid Hussain said that the bombings took place at the bustling Tori market in Parachinar, and that authorities are in the process of transporting the dead and wounded to hospitals.
No group immediately claimed responsibility for the violence, the AP reported.
The attacks were separate from another bombing that took place on Friday near the police chief's office in Quetta that reportedly killed 11 people and injured 20.
A breakaway Taliban faction and the Islamic State terror group, also known as ISIS, both claimed responsibility for that attack, and, as the AP reported, "the competing claims could not be reconciled."
The attacks came ahead of the Muslim holiday of Eid-al-Fitr, which follows the holy month of Ramadan.
This story is breaking and will be updated.
Correction: June 23, 2017