North Korea denies mistreatment of US captive Otto Warmbier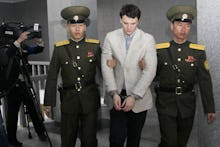 North Korea denied torturing American detainee Otto Warmbier on Friday, deeming the cause of his death a "mystery."
According to the Associated Press, the North's official Korean Central News Agency said the United States and South Korea fabricated claims that North Korean abuse and mistreatment was to blame for the 22-year-old's death, calling these allegations "groundless."
KCNA alleged that Warmbier received "humanitarian" treatment throughout his nearly 18 months in custody, in accordance with North Korean law.
Warmbier's family said they believe otherwise.
"Unfortunately, the awful, torturous mistreatment our son received at the hands of the North Koreans ensured that no other outcome was possible beyond the sad one we experienced today," Fred Warmbier said while announcing his son's death.
Refuting these accusations, an unnamed spokesman for North Korea's Foreign Ministry told KCNA that painting such a defamatory portrait of North Korea will only lead the country to harshen treatment for foreign detainees in the future.
"The smear campaign against [the Democratic People's Republic of Korea] staged in the U.S. compels us to make firm determination that humanitarianism and benevolence for the enemy are a taboo and we should further sharpen the blade of law," the spokesman said.
Warmbier was detained in North Korea in January 2016 after allegedly removing a political poster from a hotel during a trip to the country with fellow college students. He was sentenced to 15 years of hard labor for committing "hostile acts" against the state.
The student was released from North Korea on June 13, a week after the U.S. Department of State learned he had fallen into a coma after contracting botulism.
American doctors said Warmbier's condition was likely the result of a heart attack that halted blood flow to his brain. However, North Korea claimed Warmbier contracted the illness and became comatose as a result of taking a sleeping pill.
Warmbier passed away June 19, shortly after returning to the United States.
"To make it clear, we are the biggest victim of this incident and there would be no more foolish judgment than to think we do not know how to calculate gains and losses," the spokesman said.