The White House just admitted Trump tried to intimidate James Comey with the "tapes" tweet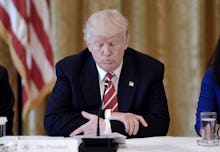 White House press secretary Sean Spicer admitted during a Fox News interview Friday morning that President Donald Trump's initial tweet about having "tapes" of his conversations with former FBI Director James Comey was intended to influence Comey's testimony.
"By talking about something like tapes made Comey in particular think to himself 'I better be honest, I better tell the truth,'" Spicer said in the Fox News interview.
This came after Trump himself admitted on an earlier Fox News interview Friday morning that he hung the threat of "tapes" over former FBI Director James Comey's head in order to impact Comey's testimony.
The comments of both Trump and Spicer on the intent of the tapes raises the specter of witness intimidation.
Witness intimidation, according to federal law, is defined as anyone who "knowingly uses intimidation, threatens or corruptly persuades another person, or attempts to do so, or engages in misleading conduct toward another person, with intent to influence, delay or prevent the testimony of any person in an official proceeding."
Experts had already said Trump's Thursday admission that he never had tapes of his conversation with Comey raised the possibility of witness intimidation.
"Was there an intent to harass or intimidate or block Jim Comey from testifying? It certainly had that flavor to it," Norm Eisen, the White House ethics czar under former President Barack Obama, told CNN Thursday night.
But Trump and Spicer's comments Friday went a step further, readily admitting that there was intent to influence Comey.
"When he found out that I, you know, that there may be tapes out there — whether it's governmental tapes or anything else and who knows — I think his story may have changed," Trump told Fox News' Ainsley Earhardt, after Earhardt asked Trump whether his tapes tweet was to ensure Comey "stayed honest in those hearings."
Special counsel Robert Mueller is currently investigating whether Trump tried to obstruct justice by firing Comey.
Obstruction of justice falls under multiple federal statutes, but is defined as someone who "corruptly, or by threats or force, or by any threatening letter or communication influences, obstructs or impedes or endeavors to influence, obstruct or impede the due and proper administration of the law under which any pending proceeding is being had before any department or agency of the United States."
If Mueller finds there is sufficient evidence of obstruction of justice, he can decide whether to prosecute the case.