While You Weren't Looking: The Supreme Court went to work, and 5 more under-the-radar stories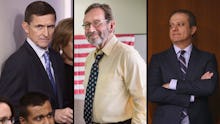 Between Georgia's closely watched special election and Senate Republican health care machinations, it's been yet another wild week of breaking news in the Trump era. But while you were following the big headlines of the day, here are the major stories you might have missed.
The Supreme Court prepares to hear Wisconsin gerrymandering case
This week, the Supreme Court decided to take up a landmark case on gerrymandering, the practice of politicians using their power to draw district lines in order to create political maps that overwhelmingly favor their party.
The case focuses on the state of Wisconsin, where Republicans have been able to consistently maintain control of the state legislature for years despite the fact that they win less than a majority of the statewide vote.
Though racial gerrymandering is illegal under the Voting Rights Act, states have mostly been allowed to get away with partisan gerrymandering for years. The Wisconsin case could determine the future of partisan gerrymandering in the United States.
New revelations about the handling of security risk Michael Flynn unearthed
The New York Times reported Tuesday that former national security adviser Michael Flynn was allowed to sit in on classified intelligence briefings even after concerns were raised about his potential to be blackmailed by Russia.
In January, then-acting Attorney General Sally Yates warned the White House that Flynn lied to the FBI about his conversations with Russian Ambassador Sergei Kislyak and was vulnerable to Russian blackmail. For three weeks after that warning, CIA Director Mike Pompeo allowed Flynn to sit in on the president's daily intelligence briefing, according to the Times.
The report represents yet another indication that the White House had not been concerned with Flynn's potential missteps until they became public.
Democrat in South Carolina's special election race comes surprisingly close
As the nation focused its attention on the special election in Georgia's 6th Congressional District, another special election in South Carolina ended up being far more competitive than anyone expected.
The race to fill the congressional seat vacated by Trump budget director Mick Mulvaney was expected to be an easy win for Republicans. Instead, the margin between the Democrat and Republican candidates ended up being closer than that of the far higher-profile Georgia race, signaling that Democrats still don't fully grasp which House districts may be up for grabs in the Trump era.
Former U.S. Attorney Preet Bharara releases his own Comey-style Trump memo
More than a month after the world first learned that former FBI Director James Comey was writing memos of conversations with the president he found troubling, BuzzFeed learned that another prominent former federal law enforcement official was doing the same.
Former U.S. Attorney for the Southern District of New York Preet Bharara wrote a memo of a disconcerting call he received from Trump's office while he was still acting as U.S. attorney in Manhattan.
"At approximately 4:41 p.m., on March 9, I received the following voicemail at work: 'Hi, Mr. Bharara. This is Madeline Westerhout calling from President Donald Trump's office. If you could please give me a call back at that would be great. Thanks,'" the memo reportedly read.
Bharara was later fired along with all of the other U.S. attorneys in the country, even though Bharara had been given assurances that he would be allowed to remain in office. Though federal officials rarely disclose the existence of ongoing investigations, Bharara has indicated that his office had possibly been investigating the president at the time he was fired.
Factory where Trump promised to create jobs now bracing for big layoffs
In February, Trump visited a prominent Boeing facility in South Carolina, where he promised that "jobs is one of the primary reasons I'm standing here today as your president, and I will never, ever disappoint you."
Just four months later, that same facility is set to lay off around 200 workers according to CNN. The layoffs are reportedly part of a company-wide plan to scale back their workforce because of competition from rival plane manufacturer Airbus.
Federal appeals court lets one of the most anti-LGBTQ laws go into effect in Mississippi
A federal appeals court just lifted a lower court ruling blocking one of the most anti-LGBTQ laws in the country, allowing that law to now go into effect.
Mississippi's "Protecting Freedom of Conscience from Government Discrimination Act" would allow businesses and government employees to decline to serve LGBTQ people across the state. That means not only could wedding photographers and florists decline to cater to LGBTQ people, but DMV employees and county clerks could similarly deny people crucial government services.
A district court had previously blocked the law, calling it "unconstitutional," but a three-judge panel in the 5th Circuit Court of Appeals overturned that lower court's ruling. If the full bench declines to take up the case, the law will go into effect.