The 7 rules of Tindering while traveling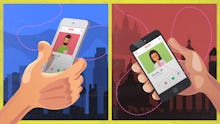 When I logged into Tinder during a two-week vacation in Boston in 2014, I wasn't looking for love. My hope was to meet up with a woman for a drink or a trip to a museum on one of the nights when my sister, who was hosting me, was working.
But I matched with Nicole and sparks flew immediately. We had two dates, four sleepovers, and one epic hike together before I flew back to Dayton, Ohio. When we said goodbye in the airport, we promised to stay in touch, but we never anticipated our whirlwind romance would turn into a long-distance, and then, long-term relationship.
No matter what type of companionship you're looking for, Tinder and other dating apps can be a practical way to connect with locals without hitting up a bar. But as I learned when swiping in Boston and while interviewing other dating app users, there are a few ways to make the most of your matches — and your vacation. From how to chat up locals for restaurant recommendations to tips to avoid catfishing, here are some practical things to know before your next trip.
1. Scope out the dating scene before you go.
The free version of Tinder only allows you to connect with other users in your current location. But if you pay a little extra, you can check out matches around the world. Tinder Plus, an upgrade that includes a "Tinder Passport" feature, allows users to swipe outside of their current location and match with others anywhere in the world. And it costs about as much as a cocktail — $9.99/month if you're under 30 years old. (Though if you're older, Tinder charges $19.99/month.)
Other dating services like OKCupid, or the paid eHarmony and Match.com (up to $45/month and up to $60/month, respectively) all allow users to set a geolocation that's different from their current one.
OKCupid and Hinge are the only free services that allows users to change their location ahead of time. (OKCupid has a handy guide that can walk you through how to change your location on the site or app, and changing your location for Hinge is as easy as updating your profile preferences.)
Kevin, 30, used Tinder Passport to set up dates during a solo trip to Seoul. He had two dates during his eight days in Seoul — one with a Kazakh college student, and one with a well-traveled Korean translator.
"Just upgrade for a month and try it out – you can learn a lot about another culture through [its] online dating habits," Kevin said. "Considering the amount of interest I received, I could've spent every night checking out a different aspect of Korean nightlife."
2. Wheels down? Start swiping.
If you haven't changed your geolocation ahead of time because you didn't want to splurge on Tinder Passport or you didn't have time, there's one sneaky trick that can help you connect with locals once your vacation has started.
Beth, 32, had a routine for ensuring she'd get enough matches when traveling: She would open Tinder and swipe a few times as soon as she got off the plane so the app would adjust to her new geolocation. The next night, she would swipe in earnest and begin chatting with matches.
Apart from Tinder, Bumble and Grindr are free apps that serve up matches based on your phone's geolocation — though none allow you to change your location ahead of time.
3. Decide if you want to admit you're a visitor.
If you're just looking for a casual date and want to increase your chances of meeting up with someone before your trip ends, it helps to include your length of stay in your profile.
For Beth, being upfront about her travel is important because she's not looking for anything long-term in the men she meets while traveling. She used Tinder regularly when her job took her to small and large cities all over the U.S.
"It definitely attracted people who were into something more casual," she said. "It was a good conversation starter. They'd say, 'What are you doing here?'" She noted that "things move a little quicker" when a match knows you're only in town for a limited amount of time.
It might depend on your audience, though. On my Boston trip, I discovered that I got more matches with queer women when I had the half-truth "New in town!" instead of "visiting for two weeks" in my profile.
"Things move a little quicker" when a match knows you're only in town for a limited amount of time. - Beth, 32
Zach, 27, said he's noticed that Grindr users are more open to a hookup and don't care how long someone is in town, but neglecting to admit you're not local on other dating apps can ruffle some feathers. Gay Tinder users are often looking for something more long-term, Zach noted.
"Some gays get legitimately angry if you're visiting and you're on Tinder," he said. "I've definitely had some people be like 'Dude, what the fuck!' when I tell them I'm just visiting."
Still, Zach stands by his policy of only revealing his travel status when it comes up because he's open to the idea of a long-distance relationship. He doesn't want to miss an opportunity to connect, so he keeps his travel status private on dating apps.
4. Cast a wide net with your discovery radius.
If you live in a city but end up traveling to (and swiping in) a small town, you may have to adjust the discovery radius in order to find a match. Even though you might have plenty of options within a six-mile radius in New York City, odds are that rural towns don't have as many potential matches in the same area. But far-flung populations don't always mean you're less likely to strike up a conversation (or more) with someone.
Al, 35, said his most successful experience on Tinder was during a trip to Montana when he reset his discovery radius.
"The only time I ever got laid from Tinder was in Montana," he said. "I drove 35 miles for the date — I think I had set the radius to 70 miles."
5. Hit up your matches for insider knowledge.
Sandy, 26, downloaded Tinder for the first time when she was on a spontaneous vacation with a friend in St. Maarten — but it wasn't to connect with attractive locals.
"When we tried Googling 'Is the water safe to drink?' and got mixed reviews, I just messaged a random local and asked if it was safe to drink for tourists," Sandy said. After chatting with new matches, she realized she had stumbled into a treasure trove of insights about the Caribbean island.
"[It] quickly spiraled into that guy providing recommendations on things to see and what bars to frequent on which night. Then we started swiping on Tinder and Bumble to get more recommendations and different perspectives on what to do."
6. If you're worried about catfishing, do some digital sleuthing.
The safety concerns of Tindering while traveling aren't really any different than they are at home. But when you're in an unfamiliar city, it's worth your while to be extra sure your date isn't pulling a fast one on you.
Gary, 44, was wary that the Polish woman he had matched with on eHarmony might not be who she said she was. He had changed his profile to show him matches in Paris, Poland and Rome about six months before an upcoming vacation. He matched with Kasia months before the trip, so he had plenty of time to confirm her identity.
"As soon as we became friends on Facebook, I looked for the signs that she was a fake profile," he said. "If all her friends were men, but you can't see any of their pictures, or conversations, that's a sign" of a fake profile, Gary said. "And I made sure she didn't contradict herself in our conversations."
Beth said she always makes sure to Google the person's name before meeting up, and to let someone back home know where she's going.
Checking out someone's public profile on Facebook or friending them can provide some peace of mind. Just remember: if you are friending someone, it will also give them access to your full profile. You should block or unfriend them if they don't appear legitimate or well-intentioned.
7. Expect the worst; hope for the best.
Jack, a 25 year old, preaches that dating app users should manage expectations, especially on vacation.
"A Tinder date on vacation is like any other Tinder date: there's a lot of potential that it's a bad match or that they flake out. On a vacation or short trip, that let-down is exacerbated by being in an unfamiliar place for a brief period, when you're supposedly having the time of your life."
But others relish the self-esteem boost from matching with people in new areas, even when it doesn't result in a date. Zach said he enjoys swiping in D.C. during trips for work or to visit family, even if he doesn't have time to meet up with anyone.
"It's a way to vindicate that you're still attractive," Zach said.
Then again, you could get extra lucky. "It's gotten me into fun, random situations," Beth said. "The last time I met up with someone on Tinder it was a matter of two or three hours from match to meet-up, which never happens to me in New York. And then we had sex that night. The whole thing was really nice."
And the best-case scenario, at least for me? My Tinder date turned into my long-term girlfriend. We've been dating for over two years — all thanks to a few fateful swipes when I was Tindering on vacation in Boston.