Diddy talks 'Can't Stop, Won't Stop' documentary, Biggie and not being a hater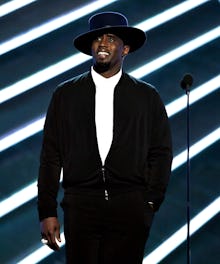 Sean "Diddy" Combs is a master at keeping his music in our ears and his name in our mouths. Since founding Bad Boy Entertainment in 1993, he's flooded radio with a dizzying number of hits, transforming bright and glitzy '70s and '80s grown-and-sexy classics like DeBarge's "Stay With Me" or Mtume's "Juicy Fruit" into samples over which his protege, the Notorious B.I.G., rapped grime-caked verses. He's also discovered or produced for dozens of artists — including Mary J. Blige, Faith Evans and Ma$e and — and released a handful of solo albums, winning a Grammy for his 1997 multi-platinum debut, No Way Out.
In the 20 years since that album's release, Diddy's movements have been tracked by the Wall Street Journal and Worldstar, trade magazines and TMZ. With a business portfolio that features companies like Sean John clothing and a stake in Cîroc vodka; a juicy love life (he had a much-publicized relationship with J. Lo in the '90s, and, more recently, his on-again, off-again girlfriend Cassie); million-dollar donations to his alma mater, Howard University, and the Hurricane Katrina relief fund; social and political work including the 2004 "Vote or Die" campaign and a charter school in Harlem; and yes, the frequent name changes, he's made his life fodder for discussion.
"I really don't think [the media's gotten] anything wrong," the 47-year-old New York native says, laughing and taking a sip from a thermos of ice water. "A lot of things that have been written — good or bad, up or down — have been true."
Wearing black slacks and a navy crewneck sweater, Diddy reclines in an all-white suite at the Four Seasons in Beverly Hills, CA, where he's parked for a day of interviews about the new documentary Can't Stop, Won't Stop: A Bad Boy Story, which he helped produce and stars in. Set during the frenetic three-week rehearsal period for last year's Bad Boy Family Reunion Tour — a hit parade starring Diddy and the many artists he's groomed, including Lil' Kim and French Montana — the film goes behind the scenes of the iconic label's rise. With the proliferation of films chronicling rap's history (2015's Straight Outta Compton, the recently released All Eyez on Me), it makes sense that Diddy would want to seal his and Bad Boy's legacy — and control that narrative while doing so. While Diddy is many things — producer, rapper, hype man, mogul, Broadway performer, philanthropist — he is first and foremost a shrewd marketer.
"It clears up misconceptions," he says of the film, which opens in New York and Los Angeles Friday, and arrives on Apple Music on June 25. "It's a little crazy, it's a little over the top, but there's a real brain up in there that really has worked hard to get to this point."
Diddy currently has an estimated net worth of $820 million, which keeps him perched on top of the Forbes Five, a list of the world's richest hip-hop artists. We talked to the superstar about the strategy behind his success, being a hypochondriac and not being a hater. This interview has been edited and condensed for clarity.
Mic: When you started, did you strategize? Did you have a 20-year plan, a 10-year plan, or do you play it as it lays?
Sean Combs: Nah, I just have this plan. I was rollin' out, this is what I saw. I guess just that power and belief in what you believe in your head. This is what I dreamt. What I'm doing is what I dreamt.
I read in a Rolling Stone article that you said you were ready to take some risks, change it up. What does that look like?
SC: I may have been feelin' good that day! I ain't trying to take no risks. [Laughs] I'm tryin' to smell the roses right now. I'm trying to work smarter, not harder. I'm trying to chill, enjoy life a little bit. I know that there's work to do, I just think I'm gonna be working smarter in the future. It's not about me, it's about "we." It's about the people I can empower through my brand. And me finding all the other geniuses and investing in them. Showing you who the real hitmakers are.
That's always been one of your talents. How do you find new music?
SC: I just know another bad motherfucker when I see one. So whatever it is, that's my knack. I can pick out all the bad motherfuckers in the room. But no, it's really about inspiring and the growth of the dream. The dream before was just to get a better place to live and do better for my family, to make great music for people to dance to, to be the best at this and I'm gonna do this — nah, it's time for "we" to do this. The dream evolves. And keeps going and becomes bigger than you. It becomes for the greater good. Then we really start balling and partying, and making history.
Do you ever get tired of the party?
SC: Hmm. I party less. You can get tired of the party. I like moments. I don't like parties anymore. ... If I'm gonna have a moment tonight, a party can be in there, but it's gotta be special.
What's a day in the life for you, your best day?
SC: A good workout, going and getting a steam, having the right amount of quality-type interactions and meetings with people, get some shit done. Enjoy the sunset, see my kids, have a good meal and live life. Be with somebody I wanna be with and hang out and feel the vibrations. I'm trying to get a good seven or eight hours of sleep right now. Make sure this skin stays nice and moist, young-looking.
That was a thread in the Can't Stop Won't Stop doc — you being preoccupied with your health, going to the doctor's office. How much of a concern is that for you?
SC: Yeah, Swizz Beatz said the other day nobody goes to the doctor more than me. If I feel like something's on my finger, anything happening, just go to the doctor. Make sure everything's all right because we got big plans for the future. I think I'm a hypochondriac, for real. It's just prevention, precautions.
Everything you've done — you're a producer, businessman, rapper, you do everything. Is there one that has your heart?
SC: Producing. I get to play my position. A lot of times I get courageous and jump out my position. I may jump on Broadway. But I'm gonna give my all. Even get on certain records. But I'm strongest as a producer. Actually steering a team, as the coach, conceptualizing and stuff. But I got other dreams of glory.
Do people ever tell you no?
SC: Sometimes in the beginning of the conversation. Nah, I get told no, too. [Long pause] But not if it's really something important that's good for both of us. I can really help us see if it's something good for both of us. I'm not good at making something seem like it's only good for me. But something that's good for both of us? I know I'm gonna get yeses out of that.
How important have women been to your success?
SC: Extremely important. I just hired the president for my company [Dia Simms, who began working for Diddy in 2005], the first time I've ever hired a president, but I have to work smarter and needed someone to really step in and be a leader for me. She's a young lady who started out as my assistant. And now she's president of Bad Boy.
That's a big part of the dream, too. Being able to open up a school in Harlem, give back to my alma mater, Howard University. That's just as intense of a dream as it is to have No. 1 records. But all the things I have dreams about are not about me, they're about others. And how I can be helpful in that. And do some business. I wanna do business with people. I want us to go on vacations together in fabulous locations! I want us to buy houses together! I want us to save lives, you know what I'm saying? Save the world, have fun doing it!
Speaking of saving the world, you've never shied away from being politically minded — or speaking your mind about anything, really. How do you think we can come together? Everything is so divided right now.
SC: I really prayed on that. Just the constant slaughtering of young black adults, by their hand or hand of others — in the community, or black-on-black crimes or the things we have to deal with with the police. I really prayed on it, and I started this whole movement, Team Love. Not to get too hippie-ish, but it kinda made sense to me — that love is the only thing that's gonna win. Love is the only thing that's gonna figure it out. And there may be some anger there, there may be some rough patches, some things that are gonna have to happen in the future, but it has to come from a place of love.
That's really what I have to say 'bout it. I'm trying to figure out the solution. Spread love and help the balance of things. There's definitely deeper political things and they're gonna need some serious minds, too. When I'm ready for that, I feel like I'll be able to step up and be a leader that's also dealing with other serious issues and fighting for justice. What my role is going to be is yet to be determined.
Does it ever bother you to hear young rappers brushing off Biggie?
SC: I don't have a problem with it. As a fan, you can't go to sleep in a trophy room, okay? We can't be talking about everything we did in the past. Some people aren't going to get that. I think people should have respect for Biggie. I think that says a lot about them if they don't. But then sometimes that's just people's truth. That was a long time ago. You have people who are 13 years old — that wasn't programmed on their radio, that wasn't what their friends were listening to. You gotta be able to grow old gracefully. Not be a hater. [Laughs]
Is that how you've stayed relevant?
SC: Yeah. I'm not a hater.
Mic has ongoing music coverage. Follow our main music hub here.