'Will and Grace' revival premiere will address the finale and explain the "rules"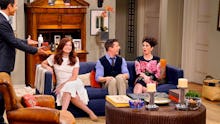 Will Truman and Grace Adler are "very much living in that apartment in 2017," according to Will & Grace creators Max Mutchnick and David Kohan. The two spoke to E! News about the show's upcoming revival, premiering September 28, and confirmed that the first episode will address the events of the show's 2006 series finale.
We can tell you this much: They are very much living in that apartment in 2017 in the month of September, on the 28th of September at 9:00. That's when you're going to meet up with them again and they are going to explain to you exactly what happened so you know the rules moving forward and you won't feel like anything is left open.
Fans will recall that the finale skipped ahead in time to reveal Will and Grace hadn't spoken in 20 years, only to reunite at their kids' college dorm. It is unclear what "rules" Mutchnick and Kohan have established to address that time jump, but Debra Messing has confirmed the pair found a "very creative way" to solve the dilemma, and that the new premiere will take place 11 years after the finale. Considering the finale started in a fictional 2006, and supposedly jumped ahead 20 years to 2026, it's not immediately apparent how the upcoming season will occur 11 years after that jump but still be set in 2017. Was the time jump just a dream sequence? Did Will and Grace not actually grow apart and have kids?
As of now, neither Bobby Cannavale, who played Will's partner, nor Harry Connick Jr., who played Grace's husband, have signed on for the revival season, so it's unclear whether Will and Grace will have love lives (or kids) when they return to television screens. But the show wouldn't be nearly as funny if all of its characters were happy and well-adjusted, so that's probably a good thing.
Little else is known about the new episodes, but star Megan Mullally, who plays Karen Walker, has confirmed it will at least reference the current presidency. She told BBC Radio 5 live:
The show was not only funny but topical, so the elephant in the room that has now burst out of the room and is now straddling the earth will be mentioned from time to time.
NBC has ordered 12 episodes for the reboot — including an hour-long Christmas special — but NBC chairman Bob Greenblatt hopes there will be more. The season will anchor a new "Must See TV" NBC Thursday lineup at 8 p.m. Eastern.
Mic has ongoing Will & Grace coverage. Please follow our main Will & Grace hub here.