Jennifer Lopez would like you to know this pic of her flawless abs is not airbrushed, but thanks tho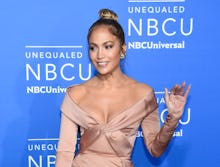 Flawless queen Jennifer Lopez would like you to know that a flawless pic she posted of her flawless abs was not, in fact, airbrushed, thank you very much.
Lopez made this declaration on Thursday, after posting an indeed rather amazing mirror selfie of herself, with her shirt hiked up, on Instagram.
What made people think it was altered was the tiny blur you can see on Lopez's right side.
"I love you, you're my idol but why is a chunk of ur back missing?" one fan asked. Another: "What's wrong with her left side (waist)?" And another: "You already look great. Why the need to Photoshop?!"
In an age when plenty of photos of celebrities have been called out for looking airbrushed, like Kerry Washington on the cover of Adweek and Victoria Beckham in Vogue, it's a fair thing to ask. Maybe Lopez didn't have a hand in the photo at all.
But turns out, the blur was not a result of any altering, but from Lopez being a human being with a mirror that has a smudge already on it.
In the comments of her photo, Lopez defended herself, writing: "Omg... Just a smudge on the mirror... lol... not Photoshop." Then she added a few pointed hashtags like #GymRat and #LordBlessTheHaters.
Whatever gets you motivated, Ms. Lopez.