A new multimillion-dollar drive aims to get progressive young people to the polls in 2018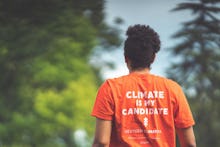 Plenty of young Americans had their hopes dashed after Donald Trump won the presidency last year. Now, a new multimillion-dollar push hopes to channel the civic frustration of into action at the polls.
NextGen Climate, a nonprofit that says it aims to "prevent climate disaster and promote prosperity for every American," is rolling out a new $7.5 million program to register and mobilize young voters in key parts of the country as part of a program to boost civic involvement in the name of "resisting the Trump agenda."
A new campaign set for launch this fall, "NextGen Rising," will hit more than 200 college campuses in eight targeted states to drum up registrations and engagement in Virginia, Pennsylvania, Florida, Ohio, Michigan, Wisconsin, Nevada and California.
"[The millennial voter bloc is a] sleeping giant for American politics, and we're going to do everything we can to build on what we did in 2016 to make sure that they're taking their rightful place in terms of making decisions for America," NextGen founder Tom Steyer said in an interview ahead of the rollout.
NextGen claims on its website to have run "the largest independent youth vote program in modern campaign history" during the 2016 election cycle. That effort, the organization says, pulled in more than 12,000 young volunteers and registered more than a million voters nationwide.
"The people who we spoke to in 2016 were 23% more likely to vote than the people that we didn't speak to," Steyer said, pointing to his group's data crunching.
"From our standpoint, this strategy of grassroots organizing, voter-to-voter contact powered by information technology and online connection is something that we saw work in 2016 really strongly, and which we're going to try and build on in this election cycle."
The holy grail for the NextGen Rising campaign, said Steyer and the campaign's director, Ben Wessel, would be to get young progressives to move the needle in the 2018 midterms by ratcheting up interest in getting more like-minded people to represent them in Washington.
In the 2016 cycle, Vermont Sen. Bernie Sanders started out as an underdog and became a phenomenon whose message generated a wave of interest and civil participation. That was notably true among millennials, who have now surpassed the Baby Boomers as America's largest voting-eligible demographic and tend to lean left, particularly on social issues.
Data gathered by SurveyMonkey in the wake of the election suggested that had only millennials voted, Hillary Clinton would have likely crushed Trump in the Electoral College.
Obviously, that's not how it works: The Brookings Institution, for example, found that for all the hand-wringing about Trump, the percentage of Americans aged 18-29 who turned out to vote wasn't dramatically larger in 2016 than in 2012. Brookings reported Trump won a third of young voters, beating predictions, and notably, his millennial backers expressed a higher level of excitement about his candidacy than did Clinton's.
In the wake of Trump's election, there has been plenty of protest against the policies he wants to enact.
But Trump's not up for re-election until 2020. To transform anger about his presidency to concrete change, say the organizers of NextGen Rising, progressive young people can't wait until then; they must engage lower down the electoral ladder, and 2018 is a prime opportunity.
Encouraging turnout for down-ballot races is always a challenge. Steyer's answer: Make all elections personal, no matter whether it's picking a new White House occupant, a governor, a new member of Congress — or someone for a tiny town's zoning board.
"What we're really talking about in every one of those instances, from Bernie right down to the school board and the water board, is, 'How is this going to affect me, my family and the people I love?'" Steyer said. "That's what people vote on. That's what people care about. So unless you are talking about issues that have a local human impact in an authentic way, you're not connecting — it's not relevant."
NextGen Rising, which plans to expand beyond the initial $7.5 funding pot, is also keenly aware that young progressive voters, as well as minorities, may face obstacles that can make it harder for them to vote than their older counterparts.
Those hurdles may include a learning curve on of how and where to register, voter ID laws, less flexibility about getting time off from work to wait at a polling place or getting kicked off the voter rolls for missing warnings to confirm their registrations.
"One of the things we do to counteract that [is] having the best-trained organizers be on the ground for as long as possible to build relationships with students [and] young people in general," said Wessel, "so that when they're being told by [a] county registrar or some phony mailer that they are not allowed to vote, we have built up an amount of trust that [lets them say], 'Actually, this guy who I've been working with for the last few months says that I can.'"
Among NextGen Rising's first focal points: Hiring field organizers to sign up and turn out voters from more than 20 college campuses in Virginia, where analysts, per the Washington Post, say the race for governor is a potential barometer of "whether Democratic fury at Trump materializes at the polls."