California bans state-funded travel to Texas, 3 more states because of anti-LGBTQ laws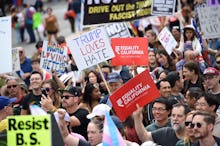 California has a travel ban of its own.
On Thursday, California Attorney General Xavier Becerra blocked any state-funded travel to Texas, Alabama, South Dakota and Kentucky because of anti-LGBTQ legislation passed in these states during the past year. These four states join a list of others — including North Carolina, Kansas and Mississippi —where nonessential travel is restricted for government employees.
Taxpayer money "will not be used to let people travel to states who chose to discriminate," Becerra said, according to the Associated Press.
Each of the four states has passed anti-LGBTQ legislation since 2017 began. In March, South Dakota passed legislation that allowed taxpayer-funded agencies to deny services to LGBTQ people because of their religious beliefs. Shortly after, Kentucky Governor Matt Bevin signed a bill allowing school groups to discriminate against LGBTQ students. In May, Alabama legislators paved the way for adoption agencies to discriminate against LGBTQ parents, with a similar Texas bill not far behind.
The travel ban will mostly apply to conferences or out-of-state trainings taking place in the listed states. Some travel to these states is still allowed, including travel for state contracts signed before 2017.
According to Fox News, the attorney general's office did not state how often employees have to visit the newly-banned states for essential or nonessential travel.
The attorney general's office responded to Mic's request for comment by pointing back to its press release.
In a statement to Fox News, Texas Governor Greg Abbott downplayed the ban and emphasized how many businesses are moving to Texas.
"California may be able to stop their state employees, but they can't stop all the businesses that are fleeing over taxation and regulation and relocating to Texas," John Wittman, a spokesman for Abbott, said.
In an email to Mic, the attorney general's office pointed out that California's economy is the sixth largest in the world, surpassing France.
Some LGBTQ groups lauded the move. In a press release, Rick Zbur, executive director for Equality California said it is "imperative that California continue to denounce those actions publicly and financially."