High school senior recreates Beyoncé's 'Lemonade' album cover for his graduation cap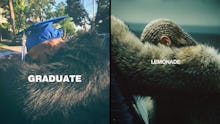 Here's one graduation look that slays all day.
Maurice Dane Scott, a senior at Saunders Trades and Technical High School in Yonkers, New York, turned his graduation cap into a D.I.Y homage to Beyoncé's Lemonade album cover.
Wearing a faux-fur jacket and his tasseled blue cap, he took the photo on his sister's iPhone and edited it in Microsoft Paint. He then took that photo and stuck it on top of his graduation cap, and wore it to his high-school graduation.
When Scott tweeted the image, it got over 1,900 retweets.
Beyoncé's Lemonade garnered immense critical and artistic acclaim, and that inspired Scott, who said he also felt like he had reached the peak of his high-school career in his senior year.
"To me, Beyoncé represents excellence, longevity, versatility and an example of what hard work can accomplish," Scott said in a interview via direct message to Mic.
Scott didn't realize how much he would come to love Lemonade.
"It wasn't expected, but it quickly became one of my favorite albums," he said. "The themes started to resonate with me."
As he moves on from high school, Scott feels most drawn to Lemonade's "Hope" chapter, in which Beyoncé performs the song "Freedom." He also loves "Don't Hurt Yourself," because "it shows the reclamation of rock music for black people, but it's bold and it's honest," he said.
This is not the only Beyoncé-inspired art Scott has created. He's also designed some Queen Bee-inspired architecture.
"People were in awe," Scott said of the reaction to his cap. He added that the online response has been "overwhelmingly positive."
Beyoncé is just one of the many black women to have inspired 2017's graduating class to turn their caps into works of art. Rihanna, Kendrick Lamar and Maxine Waters have all served as inspiration to students celebrating their accomplishments.
Scott graduated from Saunders Trades and Technical High School in Yonkers, New York, and will go on to the Vaughn College of Aeronautics in hopes of becoming an air traffic controller.