University of Missouri to revoke Bill Cosby's honorary degree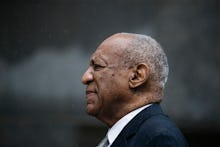 On Friday, for the first time ever, the University of Missouri has decided to revoke an honorary degree. Amid sexual assault allegations against Bill Cosby, the university announced it will revoke the comedian's honorary doctorate in humane letters, which it awarded him in 1999.
The curators of the University of Missouri announced the decision on their official Twitter page. According to the Associated Press, Mizzou system President Mun Choi cited the several allegations as the reasoning for rescinding the degree, specifically saying that Cosby's actions were not in line with the university's core beliefs. The board had been mulling whether to revoke the degree since 2015.
The University of Missouri is not alone in their decision. Brown University, the University of Connecticut, Tufts University and other schools have all rescinded Cosby's degrees.