The Movement for Black Lives responds to recent claims of a fractured coalition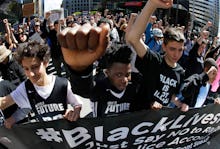 Impact
By
The Movement for Black Lives
(Editor's note: On Wednesday, BuzzFeed published an article titled "What Happened to Black Lives Matter?" According to organizers within the Movement for Black Lives, the article includes multiple inaccuracies and the groups are seeking corrections or a retraction. Below is their response to the original article.)
Real progress always comes out of the struggle, sacrifice and dedication of people working within movements for justice. Yet we face increased surveillance, and our communities are under attack. The Trump administration is engaged in a program of wholesale community destruction. The right-wing is emboldened and celebrates with avowed white supremacists as police kill us with impunity, deport us without question and jail us without precondition.
These are dangerous times for our people. History tells us that we need responsible, thoughtful and brave journalism. But movements can be stopped in their tracks by uninformed and inaccurate hit pieces that trade in gossip. We must consider what we believe in, who we stand with, and what we are fighting for.
The Movement for Black Lives is a space where groups working toward black liberation can come together, combine our collective powers and dream big. Our organizations are of varying sizes and take different approaches. Individually, we are a spectrum of gender identity, sexuality, region, age, class and political belief. We are not always in full agreement, we have competing ideas and we will undoubtedly upset each other in the process of making difficult decisions. We are here because we believe that our victories in service of black people are bigger and better when we win together.
We make no assumptions that everyone and everything within our movement is perfect — far from it. We are not above critique. We need as many people as possible in order to win and we endeavor to work with integrity and purpose. And when we arrive at conflict, we do our best to hold each other to that standard, no matter how difficult or inconvenient. We don't always get this right, but in order to do so, it requires all of us to hold these values.
We keep coming back to each other, even when it is difficult, because of our collaborative potential. Together, we have bailed out black moms unjustly incarcerated under a racist system of money bail that we will end. On Juneteenth, black folks across the country took over vacant and unused land across the country for the benefit of our communities that badly need it. Through #ReclaimMLK, we have resurrected the radical legacy from which our movements are born. We have planned national days of action that have brought hundreds of thousands into the streets and into this movement. This is a fraction of our work together and we know it is worth fighting for because our lives depend on it.
Our work is not about ego or celebrity assigned by an often irresponsible press corps. We know that our movement is made up of countless people, whose dedication is tireless, and whose names most will never know. It is made up of the quiet leadership of those who agree to keep coming back to the work, to each other and to our people.
We are proud of what we've done together and what is yet to come. It has not been easy, it is often thankless, but it has always centered our people. It will take all of us to make it through this administration and into a future where all of us, and our coming generations, can live with dignity and respect. Let's get to work.