The Trump administration just pulled funding from a group that fights white extremism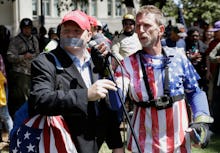 Fighting right-wing extremism takes work — resources, research, experienced counselors who can speak to those entrenched in hate-based communities, and a network that can help those escaping that lifestyle find a way to rebuild.
The Department of Justice stopped funding Life After Hate on Friday, quietly taking the group off the list of organizations that receive grants for fighting violent extremism. The Obama administration had promised $400,000 to the group, which provides a pipeline for those who want to escape violent white supremacist and reform their lives. Now, that money is off the table for the only group on the list that worked to stem the tide of white supremacist violence.
The money promised to Life After Hate was for a new initiative where they'd partner with a tech company to identify radicalized people, reach out individually and intervene. The proposed project would have employed a researcher who could take an academic approach to measuring the effects of this kind of approach — a kind of study that might now not see the light of day.
"It was a very specific, high tech, social media strategy to go out and find these people on both sides of the fence, reach out, and intervene," Tony McAleer, board founder and co-chair of Life After Hate, told Mic on Friday.
Of the 26 that remain funded, most are police departments and sheriff's offices, or groups that focus primarily on Islamic extremism like the Counter Extremism Project. Ironically, much of the funding that was going to go to Life After Hate was also going to be used on Islamic extremism as well.
The withdrawal of funding doesn't threaten Life After Hate as an organization — the group is mostly volunteer-run, drawing on the experiences of organizers and counselors that have experience with white extremist communities. But it means that they won't have the resources needed to be proactive in fighting a growing problem with the state of the art tools.
"Without funding, we have to be passive, and rely on people to reach out to us," McAleer said. "With the funding, we could use technology and social media to reach out to other people."
The shift in attention away from monitoring white-wing extremism in favor of a sole focus on "radical Islam" has been in the works since February, but neglecting to put resources into monitoring and preventing right-wing violence and white supremacist domestic terrorism is years old.
In 2009, then-Homeland Security Secretary Janet Napolitano put together a report warning about the potential future for right wing radicalization. She was later forced to apologize for suggesting that military veterans were potentially vulnerable to recruitment, and the recommendations and findings were never implemented.
Since Trump's election, there've been a number of notorious incidents of right-wing violence. In Portland, a man stabbed two others to death for standing up to anti-Islamic rhetoric, and the alt-right has been rallying across the country to draw out anti-fascist protesters for violent scuffles. Many of these rallies were watched over by the Oath Keepers, a recently founded constitutionalist militia group comprised of military and police veterans.
In a recent report from the Government Accountability Office of extremist incidents on U.S. soil since 9/11, white extremist incidents outnumbered incidents of Islamic extremism by a margin of nearly three to one.