Nebraska Democratic Party official fired after saying he was "glad" Rep. Steve Scalise was shot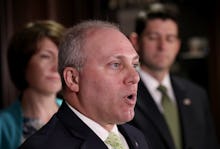 A Nebraska Democratic Party official was fired Thursday, after he was caught on audio saying he was "glad" House Majority Whip Steve Scalise was shot earlier this month, a local Nebraska television station reported.
"His whole job is to get people, convince Republicans to [expletive] kick people off [expletive] health care," Phil Montag, a technology chairman with the NDP, said in the recording obtained by FOX 42 News. "I'm glad he got shot."
Montag went on to say that he wished Scalise was "dead." The chairman was let go from his position after the recording was made public.
"We obviously condemn any kind of violence, whether it's comments on Facebook or comments in a meeting," NDP Chairwoman Jane Kleeb told FOX 42.
Scalise was shot on June 14 while Republican members of Congress were practicing for an upcoming charity baseball game. The congressman remained in critical condition after the shooting, undergoing multiple surgeries to repair internal damage caused by the gunshot.
MedStar Washington Hospital Center, where Scalise is being treated, has since upgraded his condition to "fair," noting in a statement that he "is beginning an extended period of healing and rehabilitation."