Bill Cosby juror didn't believe Andrea Constand because Constand wore "bare midriff" to Cosby's home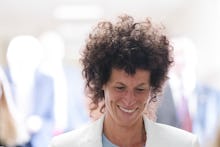 News broke on Thursday that the 12-person jury's inability to reach a verdict in Bill Cosby's sexual assault trial came down to just two people, who remained firm in the actor's innocence. Now, as the jury's two outliers speak out, the public is slowly beginning to discover why.
According to Philly.com, one of the oppositional jurors admitted he had a difficult time believing Constand's story of being drugged and raped by Cosby.
"She was well-coached," the unnamed juror told Inquirer and Daily News reporters. "Let's face it: She went up to his house with a bare midriff and incense and bath salts. What the heck?"
This is precisely the narrative Cosby's defense team was hoping to convey to jurors. Cosby's lawyer Brian McMonagle made it clear at the start of the trial that he intended to discredit Constand's testimony or, at least, make it seem like Constand deserved whatever his client did to her — much of which Cosby has already confessed to.
Constand gave her testimony on day two of the trial, telling the court that Cosby had digitally penetrated her and forced her to give him a hand job. She said she'd wanted to fight him off, but was physically unable to do so because of the drugs he had given her earlier.
"In my head, I was trying to get my hands to move or my legs to move, but I was frozen," she said. "I wasn't able to fight in any way. I wanted it to stop."
"I felt really humiliated and I was really confused," she added.
In closing arguments, McMonagle emphasized that Constand had willfully entered a gated community to visit Cosby, a married man, and continued talking to him after the alleged assault.
"She's a liar," McMonagle said.