'Han Solo' director Ron Howard recalls his first 'Star Wars' experience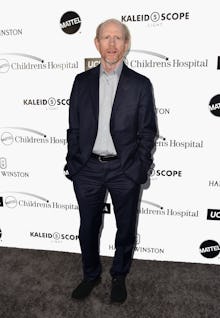 It sounds like the Force may have been with Ron Howard all along.
Following the unceremonious departure of Phil Lord and Chris Miller as the directors of the upcoming untitled Han Solo anthology film, the Academy Award winner has stepped in as their replacement.
And according to an anecdote Howard shared Friday at the Cannes Lions International Festival of Creativity in Cannes, France, his anointment as the newest Star Wars director seems like a gig that was always meant to be.
In 1972, while filming American Graffiti, Howard — then a member of the Graffiti cast — struck up a conversation with his director, a guy by the name of George Lucas.
Per Deadline:
I've been around the 'Star Wars' universe from the beginning. When I was being directed by George Lucas on 'American Graffiti' in 1972, we were standing out in front of Mel's Drive-In in San Francisco where we were shooting and I said, 'Do you know what you think your next film might be?' And he said, 'Yeah, I want to do a science-fiction movie, but a really fun one like 'Flash Gordon' with the effects of Stanley Kubrick's '2001.'" I thought, 'That sounds like a kind of crazy idea.'
Needless to say, that Flash Gordon-meets-2001 eventually became the 1977 blockbuster Star Wars.
Howard and his wife, Cheryl, saw the film on its opening day and were instantly enamored: "It was all the things you dream you're going to experience in the movies," he said.
The Howards were so taken by Lucas' masterpiece that despite having stood in line to see the film in the first place, as soon as Star Wars finished, they waited in line for another 90 minutes just to see it again.
Although the Han Solo movie has been wrought with controversy, Howard is putting an optimistic spin on his latest gig.
"So many people involved with the Star Wars franchise are friends," the director told the Cannes Lions crowd. "So it's gratifying to be able to lend my voice to the universe — coming in when it's already been in production and there is a great amount of work done."
The Han Solo stand-alone film is due in theaters May 25, 2018.
Mic has ongoing coverage of Star Wars. Please follow our main Star Wars hub here.