'Skyrim' Nintendo Switch Release Date Leak: Amazon may have told us when it's coming out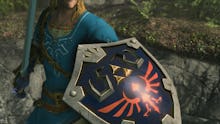 The best and worst thing about the internet is that sometimes people make mistakes and it's impossible for their mistakes to be thoroughly removed from public record. It's one thing when it's a regrettable tweet from 2009 or your old Xanga page, but it's another thing when a company breaks news they didn't intend to break.
Amazon may have leaked the Skyrim Nintendo Switch release date
This comes courtesy of Bleeding Cool, who noticed that Amazon's store page for Skyrim on Nintendo Switch had a November 28 release date. Officially, the game is listed for a "Holiday 2017" release window, so this is surprising. Of course, it has now been changed to say December 29, which is an obvious placeholder date. It's bad business for a major game publisher to release a game after Christmas.
Of course, that November 28 date could have been an estimate on Amazon's part and maybe they don't know any more than we do. It seems strange to change that after sites start reporting it, but hey, things happen. With the game coming in the next five months at most, we should hear the real release date from Bethesda in the near future.
More Nintendo Switch news and coverage
Looking for more Nintendo Switch news? Check out how blind gamers are using the Nintendo Switch. Nintendo's left Joy-Con issue turns out to be a hardware problem — here's how to solve it. Find out how to buy a console amidst the recent restock. Learn why the Switch cartridges taste so bad. Check out our comparison photos sizing up the Switch to the Wii U GamePad (part one and part two), or find out how to make use of ethernet without the dock and the best way to get alerts when new stock arrives.