Who won 'RuPaul's Drag Race' season 9?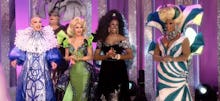 Frankly, if the drama-filled reunion episode had been RuPaul's Drag Race season nine's last gag, it would've been enough. Last week's installment was deliciously bitchy, bringing the kind of shade and reading that fans had been longing for all season to the forefront. It was perfect.
But RuPaul didn't make her name and coin by resting on her laurels. She followed up the reunion with a shocking, dynamic finale the likes of which Drag Race has never seen. Instead of sticking to the fairly dry, expected format, season nine changed all the rules, turning the last episode of the season into a lip sync for your life tournament.
Opinions will be split on the change (for what it's worth, I loved it), but considering the whole of season nine, a lip sync-focused finale was remarkably appropriate. After all, this was the season where queens threw lip syncs left and right. Ru's new finale format is a reminder to future Drag Race competitors and a wake-up call to the final four: She calls it lip syncing for your life for a reason. For a drag queen, lip syncing is not optional.
Sure, there were a couple of strong lip syncs this season: Aja's "Holding Out for a Hero," Trinity Taylor's "I Wanna Go" and Peppermint's "Music." But overwhelmingly, the lip sync performances were either passable or, in several cases, just chances for queens to throw white flags. Charlie Hides, Valentina and Nina Bo'Nina Brown all barely put up a fight in their final lip syncs, a distressing development for the show.
Luckily, the queens bring their A-game to this finale, giving us some legitimately surprising results.
Trinity wins the big wheel-spin at the start of the tournament, allowing her to choose her opponent. Bizarrely, she chooses Peppermint, who handily won two lip syncs this season (as opposed to Shea Couleé, who won one, and Sasha Velour, who never lip synced). The two lip sync to "Stronger" by Britney Spears, and unfortunately for Trinity, that "I Wanna Go" magic does not return.
Peppermint, on the other hand, brings it hard. She pulls out a wig and dress reveal that, quite frankly, couldn't be beaten. Even lip syncing to "Stronger," a song that was first performed by Bebe Zahara Benet and Ongina all the way back in season one, she made her work a major moment.
Sasha and Shea, the season's token best friends, go up against each other in the second part of the semifinals, and something remarkable happens. Sasha delivers a rose petal-drenched performance to Whitney Houston's "So Emotional." She pulls them out of her gloves and then, in a remarkable moment, her wig. It's beautiful, it's groundbreaking and it stops Shea dead in her tracks.
Suddenly, the season's frontrunner is eliminated, and the two underdogs going into the finale are our top two. For the final round, they lip sync to another Whitney song, "It's Not Right But It's OK," and it's an incredibly even match. Sasha is wild in the same way that Peppermint is fierce. They bring different skills, and they make the final moments of the season nail-biting-worthy.
Ultimately, Sasha Velour takes the win. It was remarkably close — among the entire top four, really — and any result would have made some thrilled and some disappointed. But this result is pretty thrilling, for many reasons, not the least of which is how it proves that win records during the season are no longer the end-all, be-all criterion for winning Drag Race.
That wraps season nine of RuPaul's Drag Race! It's too early to tell how this season fits in with the rest — I'd probably put it just outside the top five right now — but it's exactly the right time for the show to take a break. Thanks to All Stars season two, both fans and the show's staff haven't had substantial time off since the fall of 2015.
Seasons eight and nine (plus All Stars two) have been incredible for making Drag Race a phenomenon in a way it never really was before. The show's on VH1 now, and draws hundreds of thousands more viewers each episode. Barring some strange turn in quality, it will likely only grow from here. Now, the production team has a chance to review what's happened in the last three seasons, make some adjustments and turn Drag Race into a cultural juggernaut. The world is Ru's oyster now.
Mic has ongoing RuPaul's Drag Race coverage. Follow our RuPaul's Drag Race main hub.