US military officials seek to delay allowing transgender people to enlist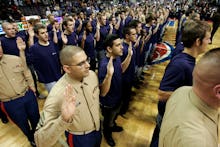 U.S. military chiefs will seek a six-month delay before allowing transgender people to enlist, officials familiar with the situation told the Associated Press, speaking on condition of anonymity.
In June of 2016, then-Secretary of Defense Ash Carter lifted the ban on people serving while out as transgender in the military, a move that went into effect immediately, the New York Times reported at the time. The armed services were given until July 1 to begin enlisting transgender recruits, but now military chiefs are reportedly seeking to delay that deadline by six months, the AP reported on Friday.
Officials told the AP that the Army and Air Force had requested a two-year delay of the deadline, but the military leaders eventually agreed on a request for a six-month delay amid fears that a longer delay would "trigger criticism on Capitol Hill," according to the AP.
The request for a six-month-delay will now go to Defense Secretary Jim Mattis, who will make a final decision.