White House condemns 'Julius Caesar' violence after hosting man who called for Clinton assassination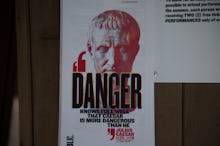 White House press secretary Sean Spicer condemned the Shakespeare in the Park production of Julius Caesar on Friday, saying the play's scene of the assassination of Caesar — who was depicted by a character that looked like President Donald Trump — is "troubling."
Spicer went on to condemn the "lack of outrage" over the play.
Yet shortly before Spicer's condemnation of the production, the White House invited New Hampshire State Rep. Al Baldasaro to the signing of a veterans' protection bill.
Last year, Baldasaro called for then-Democratic presidential hopeful Hillary Clinton to be shot by a "firing squad."
"Al Baldasaro, of New Hampshire, who made headlines last year for saying Hillary Clinton should be shot, was sitting in one of the first two rows in the audience," Maggie Haberman, White House correspondent for the New York Times, said in a pool report. "The crowd stood as the president departed, and Baldasaro yelled out a thank-you to the president for keeping a promise. "
Last July, Baldasaro said that, "Anyone that commits treason should be shot. I believe Hillary Clinton committed treason."
Trump defended Baldasaro after he made the assassination comment: "He's a very fine person," Trump said of Baldasaro. "He's a person that loves the military and he loves the veterans."