The most awkward 2-on-1 dates from 'The Bachelor' and 'The Bachelorette'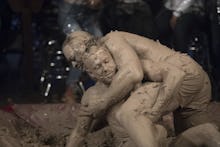 If there's one thing fans of The Bachelor and The Bachelorette love, it's drama. The ABC reality shows practically run on tears and backstabbing, and that's exactly why we're looking forward to Monday night's episode of The Bachelorette.
Season 13 star Rachel Lindsay will head out on a two-on-one date with professional wrestler "Pretty Boy Pitbull" Kenny King and singer/potential racist Lee Garrett. The two have been butting heads for weeks, and based on the promo video alone, we know the date will be one hot mess fans won't want to miss.
Two-on-one dates are always dramatic because one contestant is guaranteed to go home — though past seasons have proved the Bachelor and Bachelorette leads are not afraid to send two people packing. In honor of the upcoming drama, we're taking a look back at some of the most cringeworthy two-on-one dates in the franchise's history.
The Bachelorette season six: Kasey and Justin
Kasey went all in for Ali Fedotowsky, but unfortunately the feeling wasn't mutual. Following Kasey's reveal that he got a tattoo for her, Ali dumped him on a glacier in Iceland and then left in a helicopter with Justin. Damn, that was cold.
The Bachelorette season 12: Chad and Alex
Chad's whistling still haunts Bachelorette fans. The meat-loving contestant fought with the other men in the house all season and finally went home after a two-on-one date with Alex. But Chad did not exit willingly — he returned to the house to confront the other men, whistling a chilling tune along the way.
The Bachelor season 19: Kelsey and Ashley I.
Chris Soules took Kelsey and Ashley I. on a two-on-one date in the Badlands. Things got so bad, Chris straight-up abandoned the two women in the desert and flew off in a helicopter.
The Bachelor season 20: Emily and Olivia
Few things are more awkward than dating twin sisters and having to dump one in front of the other. Emily survived the two-on-one with twin Haley, and later had to endure another two-on-one date with season 20 villain Olivia. Emily dodged the chopping block on both dates, and Olivia was left on an island all by herself.
The Bachelor season 21: Taylor and Corinne
Corinne and Taylor had a problem with each other from the start, so things were already tense when they joined Nick Viall on a two-on-one date. Nick ultimately chose to give his rose to Corinne and left Taylor in the woods. But Taylor refused to be defeated by Corinne and later crashed Nick's dinner date to tell him about Corinne's lies and manipulation.
Mic has ongoing Bachelorette coverage. Please follow our main Bachelorette hub here.