CNN sent a sketch artist to Sean Spicer's off-camera press briefing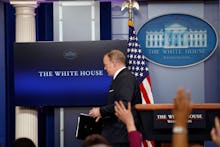 Friday's press briefing with White House press secretary Sean Spicer was another off-camera affair, the latest of several off-camera briefings and gaggles that have frustrated White House journalists.
In the absence of a live video of Spicer taking questions from the press, cable channel CNN sent courtroom sketch artist Bill Hennessy to the briefing room to document it.
CNN said the move was a "creative" way to show its audience the press briefing, even as the White House has moved to prevent news outlets from broadcasting the briefing live on air.
"The point here is serious," CNN senior media correspondent Brian Stelter said on-air Friday. "CNN did not send a cartoonist in order to make fun of the briefings. They sent an actual sketch artist because it's a way to create a picture, paint a picture of these briefings for people, because we the viewers weren't able to watch on camera."
The White House's increasing penchant for off-camera press briefings has been derided by press freedom advocates and members of the press. The White House Correspondents' Association on Friday issued a statement saying that its president, Jeff Mason, had expressed concern to Spicer and deputy White House press secretary Sarah Huckabee Sanders about the movement away from what has been a longstanding White House tradition.
No word yet on whether broadcasters will be permitted to record the next press briefing.