NFL players donate $20,000 to youth football team that was punished for national anthem protest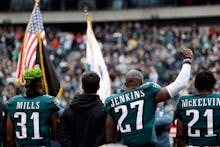 Several months after a youth football team in Texas faced death threats on social media and retaliation from its league for kneeling during the United States' national anthem, a coalition of NFL players has stepped up to help the squad rebuild.
According to ESPN, Devin McCourty of the New England Patriots, Malcolm Jenkins and Torrey Smith of the Philadelphia Eagles and free agent wide receiver Anquan Boldin have donated a combined $20,000 to fund the inaugural season of the Southeast Texas Oilers, a team made up of former members of the Beaumont Bulls who left the organization after their 2016 protest.
"We wanted to make sure that we sent those kids the message that it's OK to stand up for what you believe in," Jenkins told ESPN Friday. "We didn't want them to walk away from the season feeling punished for trying to do the right thing. We wanted to make sure that was rewarded and acknowledged and encouraged, so that was our main motivation for helping."
On Sept. 10, 14 of the 22 players on the Bulls — a Beaumont, Texas, youth football team made up of 11- and 12-year-olds — decided to emulate then-San Francisco 49ers quarterback Colin Kaepernick and kneel during "The Star-Spangled Banner" before games to protest police violence against black people.
As with Kapernick's demonstration, the choice sparked immediate controversy. Death threats poured in via social media, and the Bay Area Football League — of which the Bulls were a part — suspended Bulls head coach Rah Rah Barber. The league cancelled the remainder of the team's season after several players refused to play in support of Barber, according to the Beaumont Enterprise.
With their season in shambles, former members of the Bulls decided to start a new team and join another league. It would have taken them an estimated year-and-a-half of fundraising plus $10,000 of their own money to get the team off the ground, April Parkerson, the Oilers' vice president and mother to one of its players, told ESPN. But the NFL group stepped in and saved them the trouble.
"They made it possible for my kids to play football," Barber, the head coach, said. The players' $20,000 donation will cover "helmets, shoulder pads, tackling dummies, blocking pads, a hydration station, field striking kit, down markers and footballs," according to ESPN.
Members of this particular NFL coalition are no strangers to protest. Jenkins showed solidarity with Kapernick's protest last year by raising his fist during the national anthem before games. McCourty was the second of several Patriots players to announce they would not join their team's visit to President Donald Trump's White House after winning the Super Bowl in February.
"I'm not going to the White House," McCourty told Time in a text message on Feb. 6. "Basic reason for me is I don't feel accepted in the White House. With the president having so many strong opinions and prejudices, I believe certain people might feel accepted there while others won't."
The NFL players became aware of the Oilers' plight in February when they attended a panel organized by the Ross Initiative in Sports for Equality in Houston, ESPN reported. After meeting Barber and some of his players, they promised to give the Oilers the money they needed to start their new endeavor. As for traditions that will mark the squad's first season, the Oilers will not be playing "The Star-Spangled Banner" before their home games.
"It's not a song that we will be playing at the beginning of our football games," coach Barber told ESPN, citing a typically unsung third verse that celebrates slavery. "We might play 'God Bless America' [or] 'America the Beautiful.' As an organization, as a board, we all agreed it's not an appropriate song. It's a degrading song."