Journalist Kevin Powell sues 'All Eyez on Me' filmmakers, claims they stole from his Tupac articles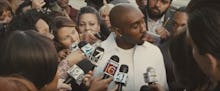 Legendary hip-hop journalist Kevin Powell filed a copyright infringement lawsuit against Lionsgate Films and several producers and screenwriters Friday, claiming that they lifted multiple passages from his interviews with slain rapper Tupac Shakur and used them in their movie All Eyez on Me, Deadline reports.
"After viewing the movie twice in the past few days, it is clear that my exclusive Vibe cover stories on Tupac Shakur (when he was alive), were lifted, without proper credit or compensation of any kind to me," Powell wrote in a statement posted to Facebook. "As the owner of the copyright to these articles, All Eyez on Me infringed on my rights by using content and narrative that was exclusive to my writings."
The biopic opened June 16 in theaters to largely negative reviews. In addition to its critical failure, the film has received terse public criticism from Jada Pinkett-Smith — one of Shakur's close friends, who appears as a character in the film — who in a June 16 tweetstorm lambasted the alleged liberties the filmmakers took in depicting her relationship with the rapper.
Powell's interviews with Shakur for Vibe are more than 20 years old — the rapper was shot and killed on the Las Vegas Strip in 1996 — and were printed in the magazine in February 1994, April 1995 and February 1996, according to the lawsuit. As compensation for the alleged copyright infringement, Powell and his attorneys are asking that the film be pulled from theaters, and that the journalist receive a cut of its $32.7 million in box office earnings.