Southwest China landslide buries 120 people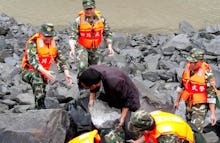 A landslide caused huge rocks and a mass of earth to crash down on the village of Xinmo in Southwest China, burying 120 people early Saturday, the Associated Press reported.
A cluster of 62 homes and a hotel was buried by the landslide, which spanned one mile of road.
An official leading the rescue efforts told state broadcast China Central Television that it was the worst landslide to hit the area since the Wenchuan earthquake. The 7.9-magnitude earthquake struck China in May 2008 and killed 90,000 people.
Only five bodies have been found so far, according to the Associated Press, citing China Central Television.
The village is known locally for its tourism and it is unclear as of yet if tourists are included in those buried under the rocks.
One family was able to flee before the landslide hit their home. According to the AP, Qiao Dashuai told CCTV that his child's crying woke him up in the middle of the night. As he readied to change his diaper, he heard a noise that alerted him to the landslide, making it possible for them to get out.
According to the provincial government, 282 million cubic feet — more than 3,000 Olympic-sized swimming pools — of earth and rock fell from the mountain onto the town. The landslide was triggered by rain, experts told Chinese television.
Between 400 and 500 workers comprise the rescue effort, according to the Associated Press.