Compounds seized by US in December reportedly contained material useful in Russia probe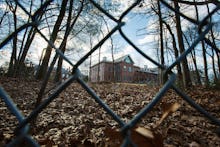 Russia "destroyed and removed" from the New York and Maryland compounds seized by the United States materials that could have helped in the U.S. probe into Russian interference in the 2016 presidential election, according to CBS News.
Antennas, electronics, computers and file cabinets were among the gear found damaged at the compounds after being seized by the U.S. government in December, an official told CBS News. Other material useful to the investigation into Russia's election meddling was gone.
The destroyed and missing material "raises the significance of the compounds in connection with Russia's election-interference operations," CBS News reported.
The diplomatic compounds in New York and Maryland, which were believed to be used by Russian intelligence against the United States, were shut down Dec. 29 by former President Barack Obama, who declared 35 Russian operatives "persona non grata" and forced them to leave the country.
It was reported in late May that President Donald Trump is mulling returning the two compounds to the Russians, despite the ongoing probe into his campaign's potential ties to the Kremlin.
The move to close the two compounds was one of the punitive measures taken by the Obama administration in 2016 in response to Russia's election interference.
Trump — who spokesperson Sarah Huckabee Sanders says believes Russia was "probably" behind the election hacks, but has called the investigation into his Kremlin ties a "witch hunt" — tweeted Friday that Obama "did nothing about" the Russian election interference.
The Trump administration had reportedly been considering using the two shuttered compounds as a bartering chip to get Russia to allow the United States to resume construction of its St. Petersburg consulate, which was stopped in 2014 after the U.S. issued sanctions over Ukraine.
But the White House quickly shifted course and reportedly told Russian Foreign Minister Sergei Lavrov and Ambassador Sergey Kislyak that the return of the compounds would not be contingent upon renewed construction on the consulate.
No agreements had been reached, a spokesperson for Secretary of State Rex Tillerson told the Washington Post, but sources told the paper that the Trump administration was considering potential restrictions on the compounds, including allowing U.S. authorities access through the removal of diplomatic immunity.
U.S. officials had expected the Russians to destroy intelligence materials before being expelled, according to CBS News. But, officials said, the fact that the expelled Russian operatives cleared out of the compound before the 24-hour deadline set by the Obama administration raised suspicions that the Russians were possibly "tipped off" about their coming removal.