UK Parliament hit with cyberattack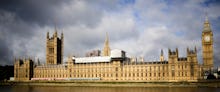 The U.K. Parliament has been hit with a cyberattack on members' emails, according to a spokesperson for the House of Commons.
"The Houses of Parliament have discovered unauthorized attempts to access parliamentary user accounts," the spokesperson told the Telegraph. "We are continuing to investigate this incident and take further measures to secure the computer network, liaising with the National Cyber Security Center."
According to the BBC, members of Parliament were notified of the attack Friday. On Saturday, members had trouble accessing their emails as officials worked to secure the network and determine the extent of the attack.
Hundreds of members of Parliament, lords, aides and staff were targeted in the hack, according to the Independent.
Days earlier, according to the Independent, it was reported that Russian hackers had accessed the passwords of ministers, ambassadors and police officers and put them for sale online.