Will Justice Anthony Kennedy retire at end of Supreme Court term? Here's what we know.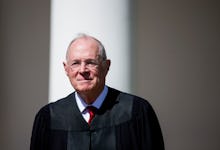 Supreme Court Justice Anthony Kennedy is "seriously considering retirement," CNN reported Saturday, intensifying speculation that the 80 year old may step down from the nation's highest court after it wraps up its current term Monday.
Kennedy, who has been on the bench since 1988, is widely considered one of the most important of the nine justices, having cast the swing vote in the court's rulings on major issues, including same-sex marriage and Citizens United.
Though a conservative nominated by former President Ronald Reagan, Kennedy is regarded as a more moderate justice who "has always resisted easy categorization," as the New York Times' Adam Cohen put it in 2006, when Kennedy's role increased shortly after Justice Sandra Day O'Connor retired.
Kennedy's potential retirement could have dramatic implications on the Supreme Court — and allow President Donald Trump to nominate a second judge to the high court.
Here is what you need to know about the Anthony Kennedy retirement rumors.
They've been swirling for a while.
There's been speculation about Kennedy's retirement since at least 2014, when the prospect of opening Supreme Court seats emerged as an early stake in the 2016 election. Kennedy was also rumored last year to be planning on retiring in 2017.
Those rumors have taken on a new intensity in recent months — to the chagrin of liberals concerned that Trump would nominate a far-right justice to replace him.
Kennedy has been tight-lipped on retirement rumors.
Kennedy, who turns 81 next month, hasn't publicly addressed the rumors that he is planning to leave the court.
But according to the CNN report Saturday, dozens of former clerks are wondering if a Washington, D.C. clerk reunion "will be their last chance to meet with him while he is still on the bench."
Trump could move Supreme Court further to the right.
If Kennedy — who wrote majority opinions in favor of same-sex marriage and affirmative action — retires, Trump would get another Supreme Court pick.
Based on the list of judges Trump considered for the seat left vacant by the 2016 death of Antonin Scalia, Kennedy's replacement would likely be more conservative than he is.
Trump has said he would draw from that same list in choosing future judges.
Trump's first pick, Neil Gorsuch, formerly clerked for Kennedy. But Daniel Epps, an associate professor of law at Washington University and a former clerk for Kennedy, told the New York Times in January that Kennedy would likely be uneasy with the idea of being replaced by a Trump nominee.
"It's hard for me to believe that an old-fashioned gentleman like Justice Kennedy would be impressed with Donald Trump's vulgarity and the way he behaves," Epps told the Times.
Kennedy's potential retirement would give Trump an opportunity to dramatically shape the high court for years to come. During the 2016 campaign, for instance, he promised to appoint judges who would overturn Roe v. Wade. Kennedy has voted to uphold abortion rights in the past.
Ruth Bader Ginsburg, 84, and Stephen Breyer, 78, have each faced questions about how long they'll stay on the bench. Ginsburg and Breyer are two of the four more liberal justices on the court.
Kennedy — who is expected to be the pivotal opinion on Trump's travel ban — could choose to "remain on the bench until the political climate simmers down," according to the CNN report Saturday.
But, as CNN noted, "there's no guarantee that would ever happen."