Woman kicked out of pool for wearing "inappropriate" one-piece bathing suit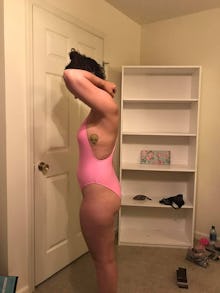 "There are a lot of teenage boys in this complex, and you don't need to excite them."
That's what 20-year-old Tori Jenkins says she was told by a leasing consultant at Smoky Crossing apartments in Seymour, Tennessee, after being forced to change her bathing suit, cover up or leave the complex's pool, according to a viral Facebook post by her fiancée, Tyler Newman.
"I have never really witnessed sexual harassment and/or 'rape culture' until today with Smoky Crossing Apartments," Newman wrote after the incident Tuesday. "Today my fiancée was told that she is less important than how men feel around her. That Tori is less important than a man's urges to be sexual towards her."
According to Newman, he and Jenkins went to the pool at the apartment complex where they live with some friends. After "roughly three minutes" at the pool, he says Jenkins was "accused of wearing a 'thong bathing suit' and told there were complaints about the way she was dressed." She then went to the apartment office to address the complaints, where the leasing agent — who was not named in the post — instructed her to look at her body in the mirror and told her she would not want her kids around Jenkins.
The consultant told Jenkins that her body was "too inappropriate" for children to be around, Newman said.
"This is how rape culture continues to grow," Newman wrote. "I've never seen my fiancée embarrassed to the point where she can't even look her best friends in the face. I've never seen her cry like she did in our apartment today. Never seen her want to be isolated like that. All because some ignorant assholes think they can police the size and shape of her body. I've never seen a woman so disrespected."
Newman posted photographs of Jenkins posed in the one-piece swimsuit.
The post had been shared nearly 26,000 times as of Saturday afternoon.
"My fiancée being told she should cover up on a 90 degree day in our own apartment pool because she will 'excite teenage boys' is bullshit. I will not stand for this," Newman wrote. "My fiancée should be able to wear a bathing suit without being sexualized and demeaned. She shouldn't feel violated."