Donald Trump is now blaming Obama for Russian election interference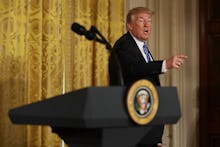 President Donald Trump turned yet again to his infamous Twitter account on Saturday to spin a theory about allegations of Russian meddling in the 2016 elections: Namely, that Barack Obama is to blame.
"Since the Obama Administration was told way before the 2016 Election that the Russians were meddling, why no action?" Trump tweeted, before granting himself a mononym. "Focus on them, not T!"
Trump then added the Obama administration "choked" on dealing with the issue, claiming it would "hurt Hillary."
On Friday, Trump had tweeted, "Just out: The Obama administration knew far in advance of November 8 about election meddling by Russia. Did nothing about it. WHY?"
Trump echoed similar themes in a pre-released section of an upcoming interview with Fox & Friends, asking "The CIA gave [Obama] information on Russia a long time before the election. … If he had the information, why didn't he do something about it?"
The president has long been publicly skeptical of the intelligence agency assessment that Russia was involved in leaking embarrassing emails from Democratic email systems — let alone even more sinister allegations that Russia hacked into local election systems in 21 states. So his switch to blaming his predecessor appears to be a tacit admission the evidence is now overwhelming.
A Washington Post story on Friday detailed how Obama's administration, upon becoming aware of the Russian hacking effort five months before he left office, "secretly debated dozens of options for deterring or punishing Russia, including cyberattacks on Russian infrastructure, the release of CIA-gathered material that might embarrass Putin and sanctions that officials said could 'crater' the Russian economy."
But ultimately, by the turn of the year, Obama settled on expelling 35 Russian diplomatic officials, closing two of its compounds and a package of sanctions even White House staff described as "largely symbolic." His most muscular response plan, having cyberweapons covertly implanted throughout Russian infrastructure for a theoretical future retaliation, was only in the planning stages in January 2017.
The ultimate decision whether to pursue the program was left to Trump, who is now facing FBI, Department of Justice and congressional investigations into whether he or his associates colluded with Russia or attempted to obstruct justice as part of a cover-up.