Burned Quran stuffed with bacon found outside mosque; officials investigate hate crime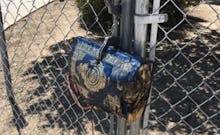 A burned copy of the Quran — the holy book of the Muslim faith — was found Saturday stuffed with bacon and handcuffed to a fence outside a mosque in Sacramento, California, according to a statement from law enforcement.
"A little after 2:30 p.m. on June 24, 2017, a Sheriff's deputy was waved down by a citizen outside the Masjid Annur Islamic Center located in the 6900 block of 65th Street in South Sacramento," the statement from the Sacramento County Sheriff's Department said. "The citizen directed the deputy to a burned Quran filled with bacon, which was hanging by a handcuff from a fence."
"Sheriff's Hate Crime detectives were called to the scene to begin their investigation into the possible hate crime," it continued.
The act of consuming bacon is forbidden in the Muslim faith, though not all Muslims observe this rule. Multiple cases have popped up across America in which the otherwise innocuous breakfast meat is used as a hateful act of provocation against Muslims — including one instance in January 2017 at a mosque in Davis, California, just 15 miles west of Sacramento, in which law enforcement said 30-year-old Lauren Kirk-Coehlo, a former Google employee, draped bacon over door handles at the Islamic faith center.
Kirk-Coehlo pled guilty in April to felony vandalism and hate crime enhancements, the Sacramento Bee reported.
That same mosque in Davis was the target of an act of vandalism this weekend, CNN reported.
According to Sgt. Dan Powell of the Davis Police Department, someone dropped a "large quantity" of shredded pages from the Quran outside the Islamic Center of Davis Friday while Muslims were praying inside.
"There is no video of any suspects or video of the incident occurring; but we are calling this a hate incident," Sgt. Powell said.