Oil truck explodes in Pakistan, killing at least 153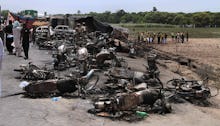 Over 150 people were killed in Pakistan's Punjab province on Sunday after an oil tanker that overturned burst into flames as residents tried to gather leaking fuel.
CBS reports that 153 people, including 20 children, have now died in the accident, which started on a highway outside Bahawalpur when the driver lost control of the vehicle and crashed. The truck reportedly blew a tire and was carrying 25,000 liters (5,500 gallons) of oil at the time, according to the BBC.
Loudspeakers alerted nearby villagers to the leaking oil, CBS reported. Scores of residents arrived and began collecting oil, even as police tried to keep people away.
"After the spill, people began calling their relatives to come and gather the oil, and some showed up from nearby villages as well. There must have been 500 people gathered when the fire began," Khalil Ahmed, a local resident and former government employee, told Reuters.
Reuters notes that oil is a valuable commodity for Pakistan's poor residents, with 60% of the country surviving on just $3 a day.
The fire reportedly broke out after a passerby lit a cigarette, according to rescue services spokesman Jam Sajjad.
"The incident, which was a minor [one], turned into a major blast," Sajjad told the BBC.
Pakistan Army helicopters were dispatched to help transport the injured victims to hospitals, spokesman Maj. Gen. Asif Ghafoor confirmed on Twitter. Prime Minister Nawaz Sharif cut a visit to London short in response to the tragedy, the BBC reports, and directed the Punjab government to provide "full medical assistance," according to the News International in Pakistan.
The casualties are expected to rise, as dozens still remain in critical condition, rescue official Dr. Mohammad Baqar told CBS News. The closest hospitals had no burn units to treat the victims, so some victims were transported further away to hospitals in Multan and Bahawalpur, the BBC notes.
The truck driver survived the incident and was taken into police custody, Reuters reported. Fatal traffic incidents are reportedly not rare in Pakistan, according to the News International, citing the country's "poor roads, badly maintained vehicles and reckless driving."
At least 62 people were killed in a previous incident in 2015, when a bus collided with an oil tanker.